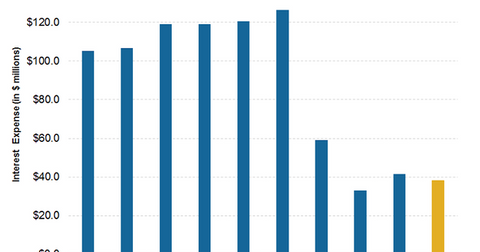 Why We Should Watch Peabody Energy's Leverage and Liquidity
By Alexis Tate

Updated
Peabody Energy's debt
According to the latest company filings, the book value of Peabody Energy's (BTU) debt as of June 30, 2017, after exiting from bankruptcy is $1.77 billion. Of that, $1.4 million is due for payment in 2022.
As of December 30, 2016, Peabody Energy had debt obligations of $7.78 billion, which was canceled as part of the reorganization plan to emerge from bankruptcy protection.
Peabody's interest expenses were consistently rising until it filed for Chapter 11 bankruptcy protection on April 12, 2016. Its interest expenses for 1Q16 were $126.0 million. The debt restructuring plan has reduced the company's interest expenses, which were $41.4 million in 2Q17. They're expected to be $38.1 million in 3Q17.
Article continues below advertisement
As of June 30, 2017, Peabody had a debt-to-TTM (trailing 12-month) adjusted EBITDA (earnings before interest, tax, depreciation, and amortization) ratio of 2.04x. The ratio is a measure of the company's leverage. After exiting from bankruptcy, the company's leverage is lower than coal (KOL) companies Westmoreland Coal (WLB) at 6.88x, Natural Resources Partners (NRP) at 4.37x, and Cloud Peak Energy (CLD) at 3.55x.
Liquidity
According to the latest company filings as of June 30, 2017, BTU's liquidity, which is comprised of cash and cash equivalents, totaled $1.2 billion. Peabody has about $171.0 million in letters of credit from the securitization program.
Off-balance-sheet risks
Peabody Energy's (BTU) off-balance-sheet risks include surety bonds, cash collateral, and bank guarantees. Since its recent exit from bankruptcy protection, it uses a portfolio of surety bonds to support its operations in the United States and bank guarantees and cash collateral to support its Australian operations.
As of June 30, 2017, Peabody Energy had ~$561.0 million in cash collateral, and ~$1.2 billion of reclamation bonding requirements were supported by surety bonds.