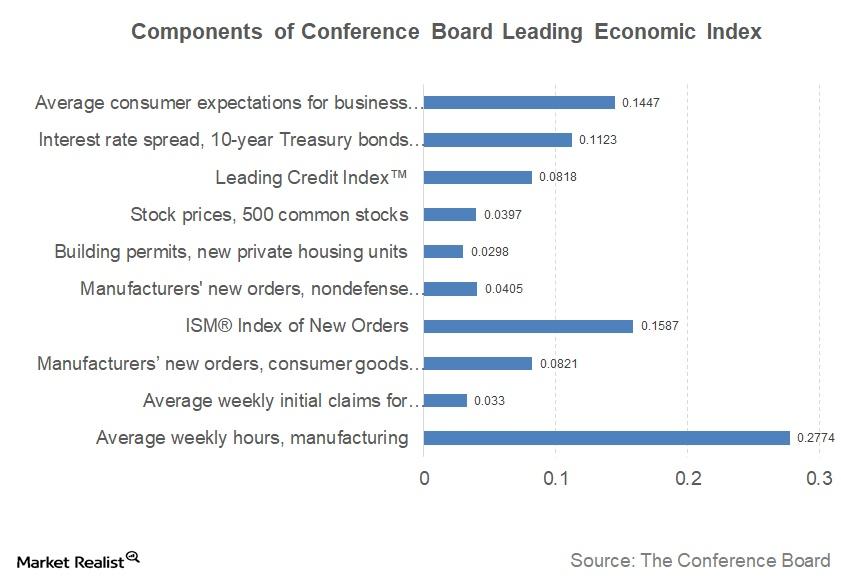 Why We Need to Track the Conference Board Leading Economic Index
The Conference Board Leading Economic Index
The Conference Board is one of the most followed business indicators in the financial world. The institution publishes three major business cycle indicators every month—the Leading Economic Index (or LEI), the Coincident Economic Index (or CEI), and the Lagging Economic Index (or LAG). Investors track changes in these indexes to access the health of the economy and prepare for any changes in economic performance.
Article continues below advertisement
In this series, we'll be looking at the most followed series from the Conference Board Leading Economic Index (or LEI). The LEI is constructed using an economic model that consolidates ten economic indicators that are standardized to smooth volatility. Below are the standardization factors used in the October report.
Importance of Leading Economic Index
The main reason for the popularity of the Conference Board LEI is the successful track record of this index when predicting changes to the business cycle. All the economic indicators used in the index are forward-looking leading indicators, which means the indicators change before the actual change happens.
Let's look at the average consumer expectations for business, which is one of the components of the LEI. Changes in consumer expectations for business can help us understand the near-term economic prospects. Declining consumer expectations could mean a future fall in demand and a possible contraction in the economy.
Latest reading and series overview
The latest Conference Board Leading Economic Index for September was released on October 19, 2017. The LEI for the US economy fell 0.20% in September, falling from 128.8 in August to 128.6 in September. Six of the ten components improved in September. Drop-in employment and housing (MORT) starts were recorded in September.
In this series, we'll analyze each component of the Conference Board LEI and try to understand its implications for various sectors such as consumer discretionary (XLY), industrials (XLI), housing (XHB), and the overall markets (SPY).