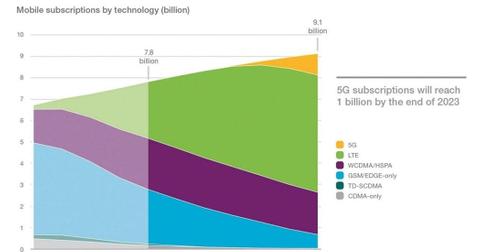 Why Verizon May Want to Include TV in Its 5G Offerings
By Ruchi Gupta

Oct. 11 2020, Updated 11:30 a.m. ET
Verizon in talks for 5G television service
Verizon (VZ) is in talks with Apple and Alphabet's (GOOGL) Google to provide television service on its 5G network. This service would be introduced when it launches in parts of California later this year, Bloomberg reported, citing a confidential source.
Verizon's first commercial 5G network is expected to go live in Sacramento, California, before the end of the year. Verizon and its rival AT&T (T) are both looking to launch 5G services in several US markets this year. AT&T is planning a 5G service rollout in up to a dozen US markets this year. Ericsson estimates there could be 1.0 billion 5G subscribers globally by 2023.
Article continues below advertisement
Showcasing the technology
Verizon (VZ) is believed to be interested in offering television on its 5G network at launch as a way to showcase the technology. Its 5G technology promises superfast download speeds on mobile networks and is expected to provide a platform for further technological revolution.
According to Qualcomm (QCOM), 5G-enabled mass-market phones are expected to start arriving in early 2019. Intel (INTC) also set up a program aimed at bringing 5G-enabled personal computers to market in the second half of 2019.
Bundling YouTube TV with Verizon's 5G package
A deal with Google would see YouTube TV offered to Verizon's 5G customers. Although Apple doesn't have its live television service yet, the company has been adding more video content to its Apple Music service. 
Apple hinted last month that it was building a media and entertainment subscription service to take advantage of cord-cutting. Apple's media and entertainment service that's in the works may include live television.