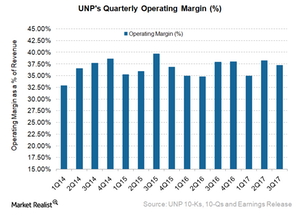 Why Union Pacific's Operating Margin Contracted in 3Q17
UNP's 3Q17 operating margin
Union Pacific's (UNP) reported a 4.5% rise in overall operating revenues in 3Q17, but its operating expenses totaled $3.4 billion—up 6% from $3.2 billion in 3Q16. The growth in operating expenses thus outpaced the rise in revenue by 1.5%.
For this reason, Union Pacific reported a YoY (year-over-year) fall of 70 basis points in its 3Q17 operating margin, which came in at 37.2%, compared with 37.9% in 3Q16.
Article continues below advertisement
Last year, Union Pacific started its G55+0 operational efficiency drive. Under this program, UNP aims to reduce its operating ratio to 55%, with zero injuries. Remember, the operating ratio is the flip side of a company's operating margin. The lower the ratio, the higher the operating margin. Under this initiative, the company achieved $70.0 million in efficiency gains in 3Q17.
Notably, in 3Q17, we also witnessed the havoc of Hurricane Harvey. Union Pacific mentioned a $0.04-per-share unfavorable impact on its EPS due to the hurricanes in 3Q17.
3Q17 operating expenses in detail
In 3Q17, UNP's compensation and benefits expenses totaled ~$1.3 billion, which was 9% higher YoY. The one-time impact of its manpower reduction plan drove the employee expenses higher. Similarly, the purchased transportation expenses rose by an equal percentage, totaling $615.0 million. Increased freight car expenses related to lease turn-backs pushed purchased transportation expenses further.
Meanwhile, fuel expenses jumped 15% YoY to $450.0 million, up from $392.0 million in 3Q16. Increased diesel fuel prices and a 2% rise in gross ton miles led to this rise in fuel expenses. Some respite was offered, however, by a 2% reduction in equipment and other rent expenses and a 15% reduction in operating expenses in 3Q17.
Notably, in 3Q17, Union Pacific realized a gain on the sale of land and receipts from a litigation settlement.
Management outlook
Union Pacific anticipates that its fiscal 2017 labor inflation will stay in the 4%–5% range. The company expects other operating expenses to fall 5% on a full-year basis in 2017.
For the first nine months of 2017, UNP realized ~$270.0 million in productivity gains. It expects to realize $350.0 million–$450.0 million in productivity gains in 2017.
Investors optimistic about transport and logistics stocks can consider indirect investment in the Industrial Select Sector SPDR Fund (XLI), which has 11.3% of its total portfolio in US airlines (JBLU) (DAL) and 8.8% in US rail carriers (CSX).