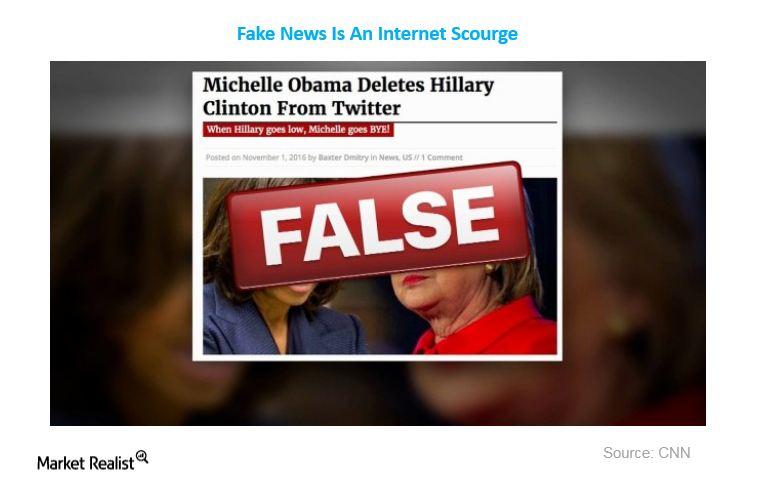 Why Twitter Can Afford to Be Vague about 'Fake News'
No "fake news" blocker in the works for TWTR
After rumors started going around that Twitter (TWTR) was quietly developing a feature that would be dedicated to combating "fake news," the company came out to deny those claims.
A Twitter spokesperson told Business Insider that the company has "no current plans to launch anything along the lines described," which refers to reports by the Washington Post that the company was building a tool to help curb the spread of fake news on its platform.
Article continues below advertisement
Where's Twitter contribution to the war on false news?
Twitter doesn't deny that the proliferation of false news is a social media scourge. So why won't the company step up and do its part in combating it?
Here is what Twitter's vice president of public policy Colin Crowell wrote in a blog post published in June:
"We, as a company, should not be the arbiter of truth. Journalists, experts, and engaged citizens Tweet side-by-side, correcting and challenging public discourse in seconds."
Twitter's false news dilemma
For Twitter, it appears that fighting false news presents a dilemma, and the company believes sitting on the fence is the best way out. Stepping out to aggressively combat fake news may earn Twitter some praises, but it could also upset and hurt others—and itself.
What happens if the war on false news leads to low user engagement on Twitter and ultimately causes marketers to run from the platform? It could be a high price to pay for a company that is busy fighting off competition from Facebook, Google, Snap (SNAP), and Yelp (YELP) for the attention of advertisers.