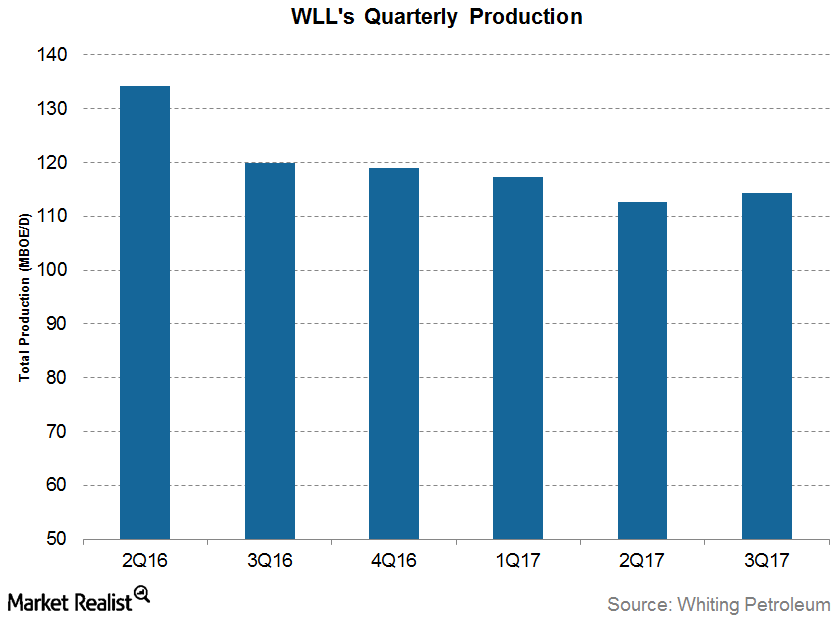 Why Did Whiting's 3Q17 Production Fall Year-over-Year?
Whiting's 3Q17 production
In 3Q17, Whiting Petroleum's (WLL) total production volume was ~114.4 Mboe/d (thousand barrels of oil equivalent per day) slightly lower than its guidance of ~120 Mboe/d. In comparison, its 3Q16 production volume was 119.9 Mboe/d, while its 2Q17 production volume was 112.7 Mboe/d.
In its 3Q17 earnings press release, WLL noted that its 3Q17 production was impacted by the Fort Berthold asset sale and an unscheduled outage at a third-party gas processing plant. Adjusting for this, WLL noted that its 3Q17 production was near the high end of its 3Q17 guidance. WLL's production guidance range for 3Q17 was 116.6 Mboe/d to 123 Mboe/d.
Article continues below advertisement
3Q17 operational highlights
The company completed 58 wells in the DJ Basin (Redtail) region and 29 wells in the Williston Basin in 3Q17. WLL's management noted that this was the primary growth driver for production growth between 2Q17 and 3Q17, offsetting the impact of the Fort Berthold asset sale and third-party outages. WLL believes that momentum from these completions will drive sequential growth, which is projected to be 10% in 4Q17. About 84% of WLL's 3Q17 production was made up of crude oil and natural gas liquids.
Realized crude oil prices, excluding the effect of hedging, in 3Q17 were $41.03 per barrel, 12% higher than 3Q16, while realized natural gas liquids prices in 3Q17 were $12.06 per barrel, 39% higher compared to 3Q16.
Whiting's 4Q17 production guidance
In the Williston Basin, WLL plans to complete 32 gross wells in 4Q17 and forecasts an inventory of 50 drilled uncompleted wells at the end of the year. Whiting plans to put 25 wells into production in the Denver Basin (Redtail region) in 4Q17 and expects an inventory of 39 drilled uncompleted wells at the end of the year. The midpoint of WLL's 4Q17 production range is 126 Mboe/d, an increase of ~10% sequentially.
Whiting's 2017 production and capex guidance
Whiting Petroleum's fiscal 2017 production guidance range was lowered to 42.6 MMboe from 43.2 MMboe (116.71 Mboe/d–118.35 Mboe/d). The previous range had been 43.6 MMboe–44.3 MMboe (119.45 Mboe/d–121.37 Mboe/d). While a clear reason wasn't provided, the decline in the guidance range could be because of the asset sale mentioned above. The Fort Berthold properties had represented approximately 7% of Whiting's 2Q17 total production.
Whiting Petroleum's capex guidance remained unchanged at $950 million.