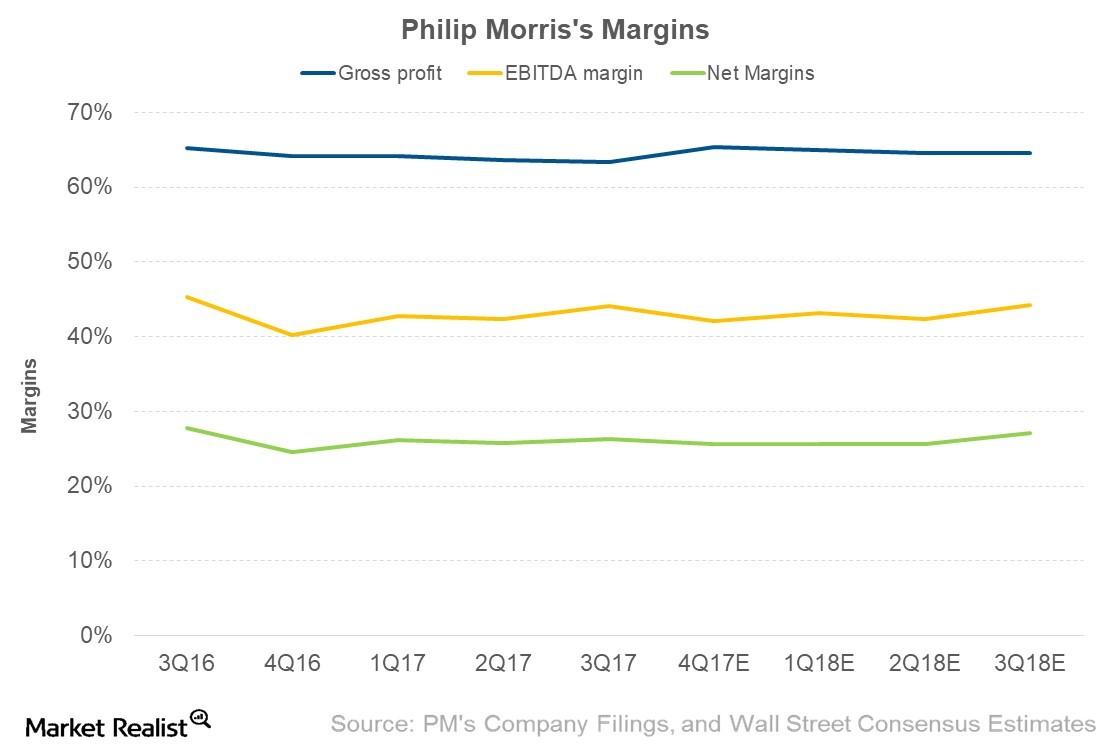 Why Did Philip Morris's Net Margins Decline in 3Q17?
3Q17 performance
For 3Q17, Philip Morris International (PM) posted a gross margin, an EBITDA (earnings before interest, tax, depreciation, and amortization) margin, and a net margin of 63.4%, 44.1%, and 26.4%, respectively. Comparably, in 3Q16, the margins stood at 65.2%, 45.3%, and 27.8%, respectively.
To accelerate adult smokers switching products, Philip Morris has offered an introductory discount on iQOS. Also, the company has increased its investments to support the commercialization of iQOS and increase awareness among customers. These initiatives, along with softness in sales in Saudi and Russia, contributed to a decline in the company's net margins. Margins in Saudi Arabia were higher than the company's average. So the sales decline in Saudi Arabia has put greater pressure on the company's margins.
Article continues below advertisement
Peer comparisons
For the same period, Altria Group (MO) is expected to post gross margins, EBITDA margins, and net margins of 62.5%, 51.8%, and 32.6%, respectively. Comparatively, in 3Q16, these margins were at 60.7%, 45.9%, and 31.0%, respectively.
Outlook
For the next four quarters, analysts expect Philip Morris to post gross margins, EBITDA margins, and net margins of 64.1%, 43.0%, and 26.0%. Comparatively, the margins were 63.8%, 42.4%, and 25.7%, respectively, in the corresponding four quarters of the previous year. The company has started to increase prices for iQOS and has been aiming to raise the price to $110 worldwide. So the rise in iQOS prices is expected to improve the company's margins. However, the fall in Saudi Arabia and Gulf Cooperation Council sales is expected to offset some of the expansion in the company's net margins.
Next, we'll look at Philip Morris's 3Q17 EPS.