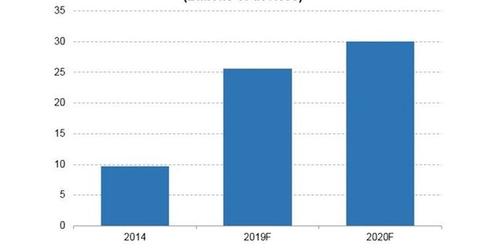 Why Dell Is Entering the Competitive IoT Market
By Sanmit Amin

Updated
Dell to spend one billion on IoT
Dell (DVMT) is betting big on IoT (Internet of Things). The company will be investing $1 billion in the space over the next three years, and it will dedicate a department to creating hardware and software that will manage several devices connected to the Internet.
IoT is becoming an enormous market for network and device vendors. According to estimates by the McKinsey Global Institute, IoT could have an economic impact of $4 trillion by 2025. But while IoT has a lot of potential, it's an already crowded space.
Article continues below advertisement
Why Dell is expanding its product mix
Now that the personal computer market is on the decline, Dell apparently wants to diversify its business. Once the world's largest player in the PC market, Dell is now in third place in terms of global market share, behind HP Inc. (HPQ) and Lenovo, according to a report from IDC. Customers have meanwhile been getting their computing and storage needs from cloud providers like Amazon.com (AMZN) and Microsoft (MSFT).
Dell has diversified its product mix recently and is now in storage, servers, and security software. The company acquired Virtustream, which helps companies run their own private cloud data centers.
Dell is also into cybersecurity with RSA, which will offer more security monitoring and data analytics for devices, and software development with Pivotal Software.