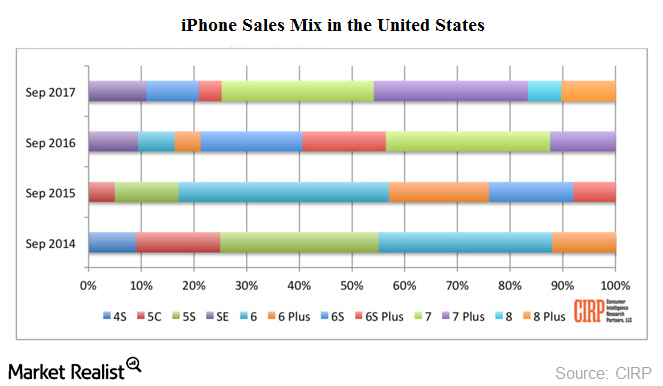 Why Apple Is Optimistic about iPhone X Sales
High purchase intent
As we discussed in the preceding part of this series, Apple's (AAPL) iPhone 8 and iPhone 8 Plus haven't been as well-received by customers as previous iPhone models. But it's presumed that this is due to the highly anticipated launch of the iPhone X, which will be available for purchase by November 3, 2017.
Investment bank UBS has partnered with 451 Research and garnered responses from over 3,500 consumers. According to their latest survey, ~69% of current Apple consumers from North America are planning to purchase a new iPhone in the next three months. By comparison, the purchase intent was 71% when Apple launched the iPhone 6 series in 2014.
Article continues below advertisement
Over 40% of current iPhone users are likely to purchase the iPhone X
The UBS survey with 451 Research shows that the purchase intent for the iPhone X, iPhone 8, and iPhone 8 Plus has been the highest in the past two years, when compared with the consumer intent for iPhone 7 and iPhone 6S models. Approximately 43% of current iPhone buyers have stated that they will purchase the iPhone X, which has a starting price of $999.
According to the CIRP (Consumer Intelligence Research Partners), the iPhone 8 Plus and the iPhone 8 have already accounted for 10% and 8% of total iPhone sales in the United States (SPY) in calendar 3Q17, although they were only available for purchase for only eight days during that quarter.
The iPhone 6 series accounted for 46% of sales in 11 days of the quarter when it was released, while the iPhone 6s accounted for 24% of sales during five days in the quarter when it was released. The iPhone 7 accounted for 43% of sales during the 14 days of its respective release quarter.