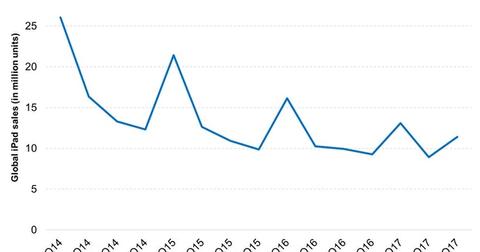 Why Apple Is Collaborating with GE
By Sanmit Amin

Oct. 23 2017, Published 3:10 p.m. ET
GE to create apps on iOS  
Apple (AAPL) will be furthering its partnership with General Electric (GE) and announced on Wednesday, October 18, that the latter will build enterprise industrial apps exclusively on Apple's iOS platform. GE will create apps for itself and its business clients.
Apple has previously collaborated with companies like IBM (IBM), Cisco Systems (CSCO), SAP, and Deloitte to make iOS apps for enterprises.
GE will develop industrial apps and standardize Apple's devices for its employees, which could mean that its employees would exclusively use iPhones and iPads. GE has around 330,000 employees right now on its books.
Article continues below advertisement
Apple's dwindling iPad sales have
GE's Predix platform is a bundle of cloud services that helps GE's business customers check the strength of the industrial equipment it seels. Specifically, Apple and GE have announced an iOS SDK (software development kit) for Predix.
Due to the dwindling sales of Apple's iPad, the tech giant has been trying to team up with the enterprise sector to return to growth in iPad shipments. As the graph above shows, iPad sales growth has declined. This is mostly because consumers are increasingly using smartphones for their Internet needs—the same trend that caused the decline in the PC industry.