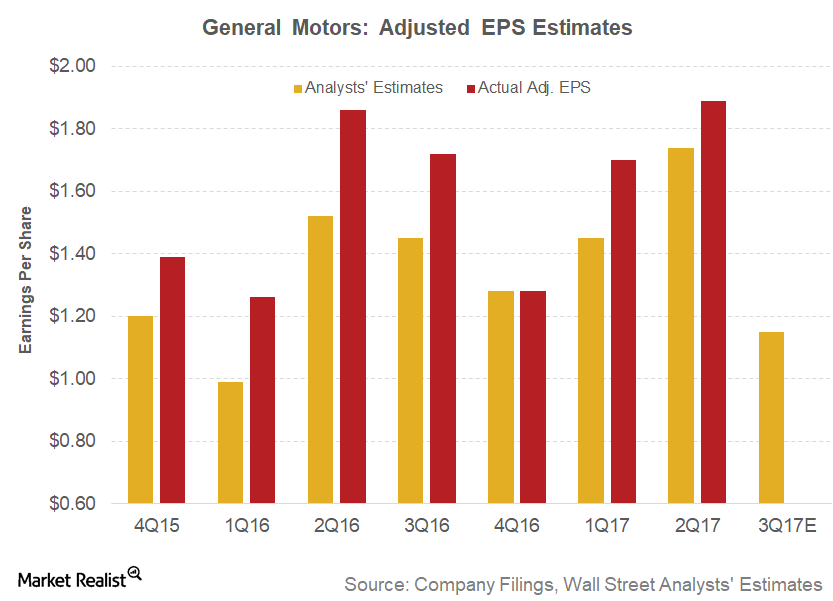 Why Analysts Expect General Motors' 3Q17 Earnings to Be Weaker
2Q17 earnings recap
In 2Q17, General Motors (GM) reported adjusted EPS (earnings per share) of $1.89, which was about 1.6% higher than its 2Q16 EPS of $1.86. Earlier, Wall Street analysts were estimating GM's 2Q17 EPS to be around $1.74.
With this, GM managed to report a minor YoY (year-over-year) increase in its earnings in nine out of the previous ten quarters. Now, let's explore GM's 2Q earnings estimates.
Article continues below advertisement
Analysts' estimates for 3Q17 earnings
In 3Q17, Wall Street analysts expect the positive trend in General Motors' earnings to end. According to these estimates, the company's adjusted 3Q earnings could be ~$1.15 per share, which reflects a decrease of about 33.1% from the adjusted EPS of $1.72 in the corresponding quarter of 2016.
Supporting factors
The US auto sales were at their all-time high in 2016 with ~17.6 million vehicle units sold. As a result, legacy automakers (XLY) including GM, Toyota (TM), Ford (F), and Fiat Chrysler (FCAU) benefitted from this strong demand. In order to boost auto sales in 2017, automakers have been offering big discounts on their vehicles, which could hurt their profitability.
According to data compiled by Autodata, US auto sales fell 1.8% in the first three quarters as compared to the corresponding period of 2016. Also, we should not forget that the auto industry is highly cyclical in nature. Thus, we shouldn't ignore the possibility that US auto sales could take a sharp downturn in the short term.
Next, we'll explore analysts' recommendations for GM stock before its 3Q17 earnings event.