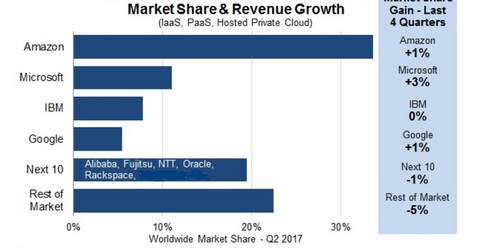 Why Alphabet's Google Cloud Has to Fight for Space
By Neha Gupta

Oct. 10 2017, Updated 6:37 a.m. ET
Google needed to build cloud credibility
Alphabet's (GOOGL) Google is a latecomer in the cloud computing business and has thus faced tough challenges competing in the industry. It initially needed to build its credibility—especially among enterprises—in order to stand a chance of going against cloud computing incumbents Amazon.com (AMZN), Microsoft (MSFT), and IBM (IBM).
But gradually, Google has been making progress in the cloud computing industry, and this progress can be seen in the company's winning over of large corporate customers to its cloud platform.
Article continues below advertisement
Google won more big cloud contracts
In 2Q17, Google said that it had inked three times as many large cloud computing contracts as it did in 2Q16. (Google defines large cloud deals as contracts worth more than half a million dollars.
Google's corporate cloud customers include Snap (SNAP) and Apple (AAPL), which moved a portion of its cloud operations from Amazon's AWS (Amazon Web Services) to Google Cloud. Google also counts global bank HSBC Holdings (HSBC) among its cloud customers. Snap committed to spending $2.0 billion on Google Cloud over the next five years.
Google says it needs not cut prices to win cloud contracts
As Alphabet reports 3Q17 earnings results (expected on October 26) in the US (SPY), a lot of investor attention will be focused on the progress Google is making in winning over large cloud contracts—especially as the company has said that it isn't eager to wage pricing wars with its cloud computing rivals to gain market share.