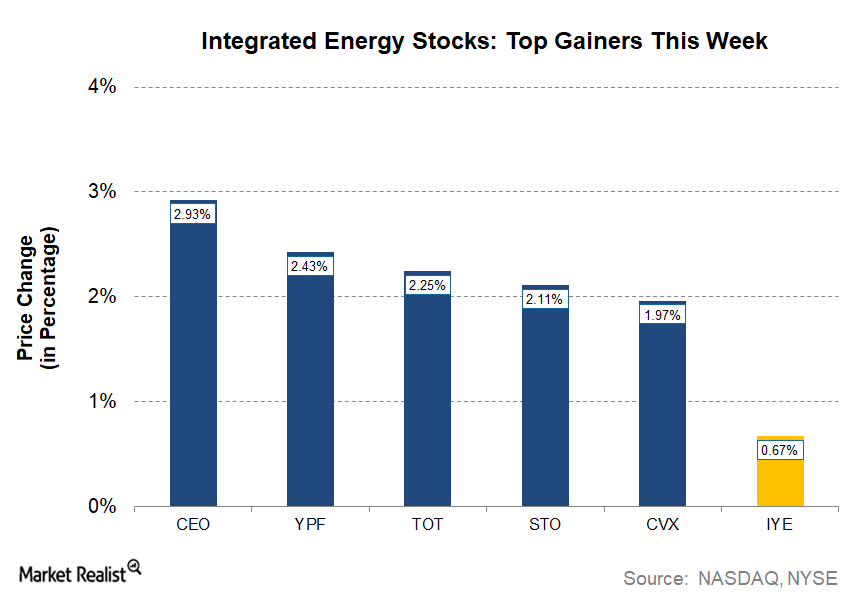 Which Integrated Energy Stocks Are Rising This Week?
By Nicholas Chapman

Oct. 12 2020, Updated 11:44 a.m. ET
Integrated energy stocks
Continuing with the biggest movers, let's look now at the top gainers from the integrated energy sector in the United States for the week starting October 9, 2017.
Article continues below advertisement
China National Offshore Oil leads integrated energy stocks
This week, which started on October 9, 2017, China National Offshore Oil (CEO) is at the top of the list of gainers in the integrated energy sector. It rose from last week's close of $126.79 on October 6, 2017, to $130.50 on October 11, 2017, a rise of almost 3.0%.
CEO has risen the first three days of this week. The majority of the gains came on Tuesday, October 10, 2017, after the company announced the successful startup of its refinery project, Huizhou Refinery Phase 2. CEO invested 46.6 billion renminbi in the project, which includes a refinery project with 10.0 million tpa (tons per annum) of crude oil processing capacity. The project also includes a chemical project with 1.2 million tpa of ethylene capacity. CEO is building the chemical project in a joint venture with Royal Dutch Shell (RDS.A). The project is expected to achieve mechanical completion in early 2018.
Other gaining stocks this week
Other notable gainers in the integrated energy group are YPF Sociedad Anonima (YPF), Total Fina Elf (TOT), Statoil (STO), and Chevron (CVX). These stocks are showing increases of 2.4%, 2.3%, 2.1%, and 2.0%, respectively, so far this week.
On Tuesday, October 10, 2017, Total Fina Elf (TOT) announced that 68.5% of its total shareholders opted to receive the payment for its 2017 first interim dividend as new shares. The company will thus issue 25.6 million new shares. TOT declared a 2017 first interim dividend of 0.62 euros per share on September 20, 2017. It also gave an option to its shareholders to receive the dividend in cash or new TOT shares.
So far this week, the iShares US Energy (IYE) has risen 0.67%. IYE has exposure to integrated heavyweights ExxonMobil (XOM) and Chevron (CVX). In comparison, the SPDR Dow Jones Industrial Average ETF (DIA) has risen 0.47% this week.