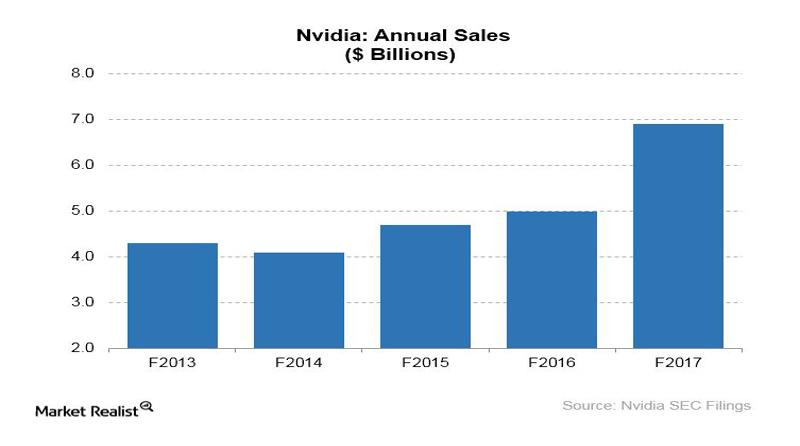 Which Companies Joined Nvidia on MIT's List of Smartest Companies?
By Ruchi Gupta

Nov. 20 2020, Updated 4:05 p.m. ET
Nvidia tops MIT list in its third appearance
In 2017, Nvidia (NVDA) topped the list of 50 smartest companies by the MIT Technology Review in its third appearance in the annual ranking. Nvidia also appeared on this list in 2016 and 2015, ranking 12th and 28th, respectively, among the 50 companies.
The MIT Technology Review recognized Nvidia for its work in artificial intelligence (or AI) innovations. Nvidia noted that the major Internet and cloud computing companies, as well as some large automakers, use its chips to accelerate their processes.
Article continues below advertisement
Revenues up 186%
In its fiscal 2017 report, Nvidia posted a 186% increase in revenues related to technology (QQQ) sales to the data center market. Revenues tied to sales to the automotive market increased 24%. Nvidia's total revenues for fiscal 2017 were $6.9 billion, up 38%. The chart above shows how Nvidia's top line has grown since fiscal 2013.
Top five smartest companies
For the 2017 ranking, Nvidia ranked in the top five of the MIT Technology Review's smartest companies list alongside SpaceX, Amazon (AMZN), genetic-testing firm 23andMe, and Alphabet (GOOGL). Amazon was ranked first in 2016.
Tesla (TSLA), whose CEO is also the leader of SpaceX, topped the list in 2015. SpaceX stood out in this year's smartest companies list for its reusable rockets, which are important for less costly and more nimble space travel.
Amazon stood out for its work such as simplifying online shopping using technologies such as the Alexa voice assistant. According to RBC Capital Markets analysts, Alexa could draw more than $10 billion in new revenues to Amazon by 2020.