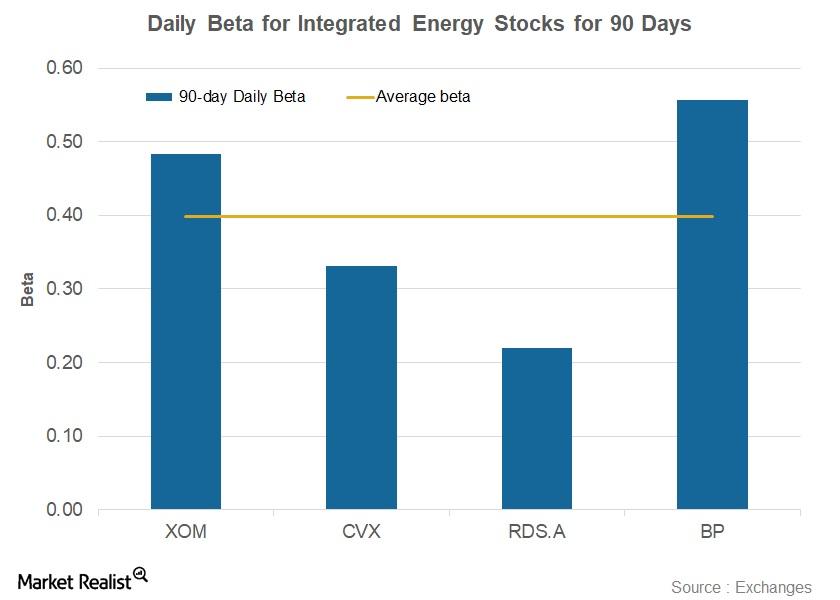 Assessing the Beta Levels of Integrated Energy Stocks
By Maitali Ramkumar

Oct. 9 2017, Updated 10:36 a.m. ET
The series so far
In this series, we have been comparing the market performance of integrated energy stocks ExxonMobil (XOM), Chevron (CVX), Royal Dutch Shell (RDS.A), and BP (BP) in 3Q17. We began by looking at the news and events that impacted these stocks in the third quarter. Then we evaluated their stock performance in 3Q17 in comparison to the benchmark index.
We then looked at their moving averages, stock price forecast range based on implied volatility, analyst ratings, dividend payment estimate for 4Q17, changes in institutional holding, valuation comparison, and variations in short interest.
Now, we will look at the beta of these companies. We have considered 90-day daily beta, which represents how much a stock changes for a given change in the market daily for 90 days.
Article continues below advertisement
Integrated energy stocks' beta
The average beta for the four stocks mentioned above stands at 0.40. While XOM and BP's betas stand above the peer average, CVX and Shell's betas stand below the average. This implies that all four stocks move in line with the market to varying degrees. Specifically, the degree of change in stock prices of XOM and BP is greater than CVX and Shell.
BP has the highest beta of 0.56, whereas Shell has the lowest beta of 0.22. The betas of XOM and CVX stand at 0.48 and 0.33, respectively. In the past 90 days, Shell has witnessed the highest rise in its stock price of 13.5%.
CVX and BP have risen 12.7% and 10.9%, respectively, in the same period. XOM had the lowest increase of 1.8%. The broader market (SPY) rose 3.3% in the past 90 days.
Please move on to the next part to compare integrated energy stocks valuations to historical averages.