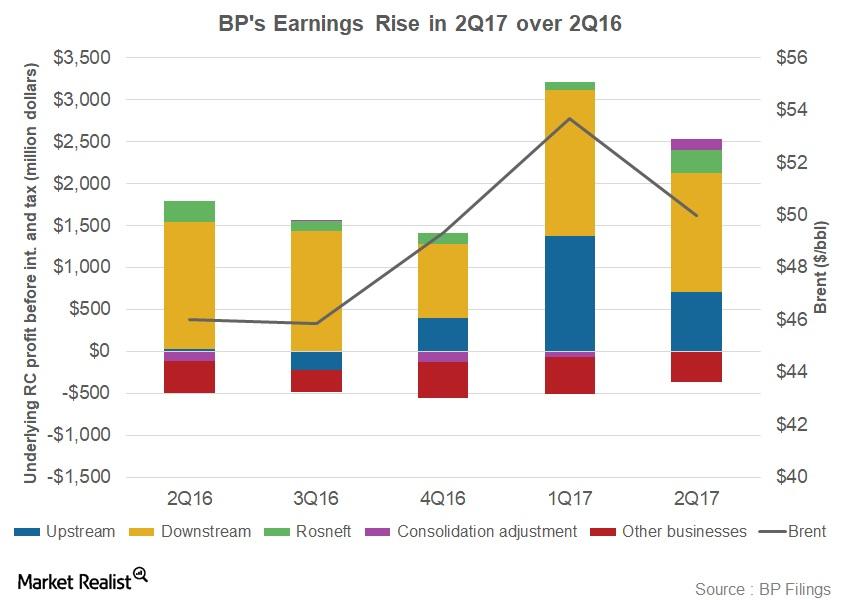 Where BP's 3Q17 Earnings Outlook Stands Now
BP's changing segmental dynamics
Before we proceed with BP's (BP) 3Q17 outlook, let's look at its segmental earnings in 2Q17. Volatile oil prices have changed BP's (BP) segmental dynamics. BP's Upstream URC (underlying replacement cost) EBIT (earnings before interest and tax) rose to $710 million in 2Q17, up from $29 million in 2Q16.
BP's Downstream URC EBIT fell 7% YoY to $1413 million in 2Q17 due to lower throughput and turnaround activities. BP's global refining marker margin remained unchanged YoY (year-over-year) at $13.8 per barrel in 2Q17. BP's Rosneft segment's earnings surged on a URC EBIT basis.
Article continues below advertisement
ExxonMobil's (XOM) Upstream earnings rose to $1.2 billion in 2Q17 from $294 million in 2Q16. CVX's upstream segment, which posted a loss in 2Q16, saw its earnings rise to $853 million in 2Q17. Royal Dutch Shell's (RDS.A) Upstream segment earnings, which plunged to about -$1.3 billion in 2Q16, switched to a profit of about $339 million in 2Q17 on an adjusted basis.
BP's 3Q17 earnings outlook
In 3Q17, BP (BP) is likely to witness better downstream earnings compared to 3Q16. BP's Upstream earnings could also improve due to better realizations led by higher oil prices.
An increase of one dollar per barrel in Brent prices grows BP's pre-tax replacement cost operating profit by $340 million annually. In 3Q17, Brent crude has risen quarter-over-quarter as well as YoY, surging to an average of $52 per barrel in 3Q17—higher than the average of $50 per barrel in 2Q17. Brent crude in 3Q17 has been much higher than its average of $46 per barrel in 3Q16.
Downstream
Meanwhile, BP's Downstream earnings are likely to increase because global RMMs (refining marker margins), which are indicators of areas where BP operates, have risen. BP's RMM has risen from $13.8 per barrel in 2Q17 to $16.3 per barrel in 3Q17.
BP's 3Q17 RMM is higher than its 3Q16 RMM of $11.5 per barrel. According to BP, a change of one dollar per barrel in its RMM changes its pre-tax replacement cost operating profit by $500 million annually.