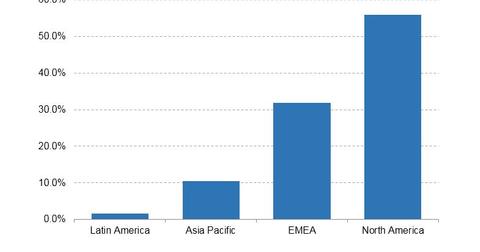 Where Blackberry Could See a Revenue Boost
By Ruchi Gupta

Updated
BlackBerry Motion first released in the Middle East
BlackBerry (BB) breaks down its revenue into four regions: North America, EMEA (Europe, the Middle East, and Africa), Latin America, and Asia-Pacific. In fiscal 2Q18 (the August quarter), BlackBerry generated 31.9% of its revenue from the EMEA region, up from 29.8% in the prior quarter and 30.1% in 2Q17. Actual EMEA revenue was $76 million in fiscal 2Q18.
The recent launch of the BlackBerry Motion smartphone could lead to higher revenue for BlackBerry from the EMEA region. BlackBerry's handset manufacturing partner, TCL Communication Technology, first released the new smartphone in the Middle East at a price equivalent to ~$460.
Article continues below advertisement
A midrange device
The Motion is presented as a midrange device suited for emerging markets (EEM). The smartphone boasts 4GB (gigabytes) of RAM (random-access memory), 32GB of storage space, and a 12-megapixel back camera. The Motion runs Google's (GOOGL) Android 7.1 and is powered by Qualcomm's (QCOM) Snapdragon 625 processor. The phone has a huge 4,000 mAh (milliampere-hour) battery that can last 32 hours. In contrast, Apple's (AAPL) iPhone Plus comes with a 2,675 mAh battery, while Samsung's (SSNLF) Galaxy S8 Plus comes with a 3,500 mAh battery.
The Middle East is poised for growth
The BlackBerry Motion is the second smartphone produced under BlackBerry's brand license agreement with China-based (MCHI) TCL. The first one was the KEYone.
TCL prioritized the launch of the Motion in the Middle East at a time of rosy projections for the region's smartphone market. According to research company IDC, the smartphone market in the Middle East will grow 9.0% in 2018, and after that, growth will stabilize at 5.0% each year until 2021.