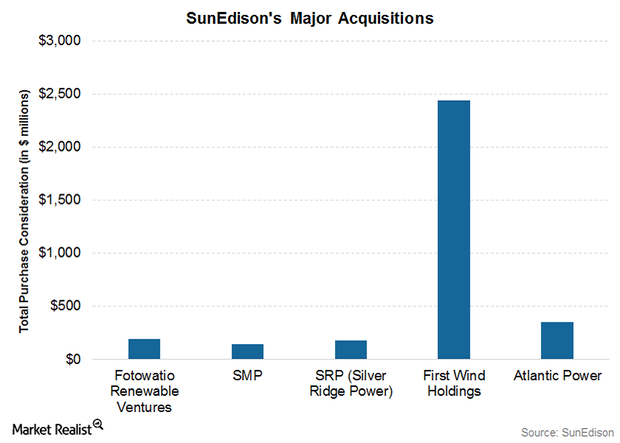 What's the Story behind SunEdison's Bankruptcy?
By Alexis Tate

Oct. 9 2017, Published 12:45 p.m. ET
What triggered the bankruptcy?
Factors that spearheaded SunEdison's bankruptcy were leveraged acquisitions and the liquidity crisis. Apart from these macro factors, the course SunEdison chose to increase its market share and diversify its global business appears to have been self-destructive.
An aggressive inorganic growth through highly leveraged acquisitions in a short span of time ultimately led to SunEdison's bankruptcy. 
Article continues below advertisement
Leveraged acquisitions
SunEdison completed the acquisition of First Wind Holdings for $2.4 billion on January 29, 2015. According to the purchase agreement, SunEdison (SUNEQ) paid $762.0 million, and the remaining $762.0 million was paid by TerraForm Power (TERP).
SunEdison issued guaranteed exchangeable senior secured notes due in 2020, which partly funded the acquisition. The aggregate principal amount issued was $337.0 million at an annual interest rate of 3.75% payable semi-annually. The balance was paid through available cash reserves.
SunEdison and TerraForm Power completed the acquisition of Atlantic Power on June 26, 2015, for $350.0 million. The TerraForm Private Warehouse debt facility was the primary funder of the acquisition.
In addition, SunEdison purchased the global solar (TAN) power company Silver Ridge Power for $179.0 million. SUNEQ also entered into a joint venture with a 35.0% interest in Samsung Fine Chemicals for $141.0 million. According to company filings, SunEdison and its yieldcos TerraForm Power (TERP) and TerraForm Global (GLBL) spent an aggregate of $5.0 billion within a short span of two years to complete these acquisitions.
Impact on SunEdison
SunEdison's liquidity position seemed to collapse due to these acquisitions. The high leverage led to an increase in its interest expenses over the years. According to company filings, the First Wind acquisition led to substantial non-recurring regulatory costs.
In the next part of this series, we'll look at SunEdison's plan to acquire Vivint Solar (VSLR), which seemed to trigger its bankruptcy.