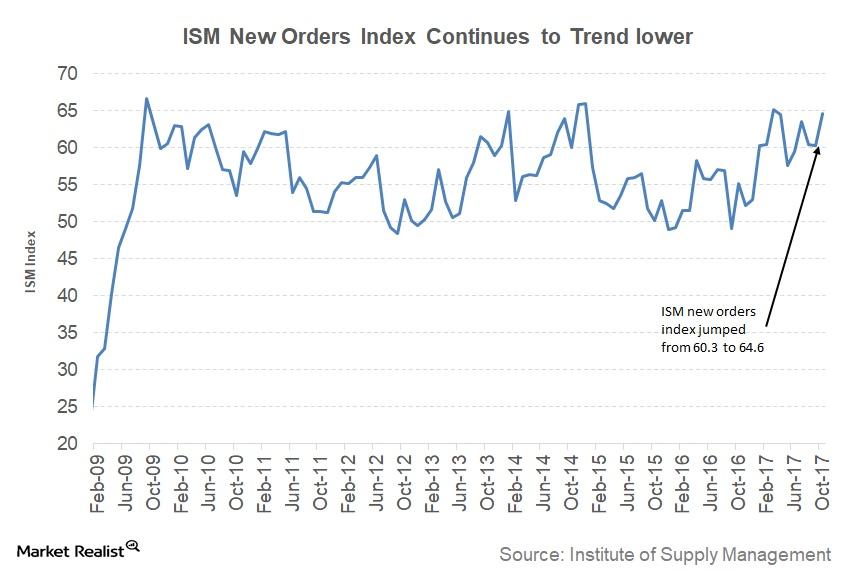 What to Make of the Sharp Rise in New Orders Index
By Ricky Cove

Oct. 26 2017, Published 3:27 p.m. ET
ISM New Orders Index
The ISM (Institute of Supply Management) monitors monthly changes in employment, production, inventories, supplier deliveries, and new orders by collecting data from 400 industries across the United States. ISM uses the data to construct the ISM New Orders Index. The Conference Board uses the index as one of the constituents of its Leading Economic Index (or LEI).
The ISM New Orders Index is a diffusion index that tracks the difference between the number of positive and negative responses. The index value ranges from zero to 100. A reading above 50 is considered a positive sign and indicates that more than 50.0% of responders have a positive outlook about their businesses. Red flags are raised when there is a continuous decline in the index value.
Article continues below advertisement
Recent data release
The ISM New Orders Index for September was reported at 64.6 compared to 60.3 in August. If the reading remains above 50, there's little reason to worry. The index has a weight of 15.9% in the LEI. The strong uptick in the ISM index could have been sparked by demand from rebuilding efforts in the hurricane-impacted regions. It's the best reading for the index for the last six months and reflects optimism in the markets (VTI).
Impact of ISM index on the markets
The US financial markets (SPY) (QQQ) respond to the ISM index since it's one of the first reports to be released every month. If the reading is above 50, the impact on the markets (ITOT) is limited. Higher levels of volatility (VXX) in the ISM index is considered a negative sign. Previous recessions were preceded by a fall in the ISM New Orders Index. A sharp rise in the index is a positive sign and a signal that the US economy is continuing to move in the right direction.