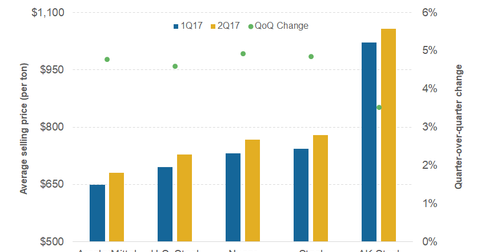 What the Kobe Steel Crisis Could Mean for U.S. Steel
By Mohit Oberoi, CFA

Oct. 16 2017, Updated 4:36 p.m. ET
Kobe Steel crisis
Kobe Steel has been engulfed in a crisis after the company admitted that it had falsified data related to some of its products, which are mainly used in the automotive and aerospace sectors. Product quality is of immense importance to aerospace and automotive companies.
Article continues below advertisement
Impact on steel industry
Reporting nearly 7.3 million metric tons last year, Kobe Steel was ranked as the 50th-largest steelmaker according to the World Steel Association. On the face of it, the weight here is too small to move the needle in global steel production, which was pegged at 1.56 billion metric tons last year.
That said, the Kobe scandal could mean an opportunity for some steelmakers—especially those who supply high value-add steel products (MT). In US markets (NUE) (STLD), AK Steel (AKS) has a high percentage of value-add products in its product mix and, as a result, has one of the highest average selling prices.
Another impact that steel companies might face could come in the form of higher compliance and quality checks costs. After the Kobe Steel crisis, some steel buyers might insist on more quality checks from steel producers.
Impact on U.S. Steel
Meanwhile, U.S. Steel (X) could find itself in a difficult position. Only last month, the company announced a joint venture with Kobe Steel to produce advanced high-strength steel products, which are mainly used by car manufacturers to reduce vehicle weight. Now that Kobe Steel itself has admitted that its credibility "has plunged to zero," U.S. Steel might take a fresh look at the joint venture.
In the next and final part of this series, we'll look at the key events that US steel investors should watch this week.