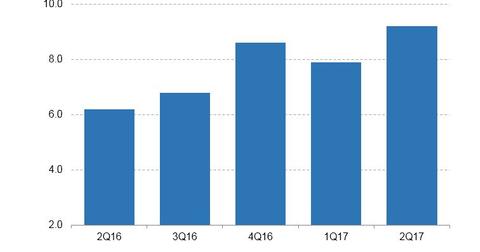 What Happens When Zuckerberg Sells His Class B Stock?
By Ruchi Gupta

Updated
Selling 99% of Facebook stake
Facebook (FB) founder and CEO Mark Zuckerberg vowed to continue selling his stock to fund his philanthropic organization, the Chan Zuckerberg Initiative, despite Facebook withdrawing a plan to reclassify its stock structure. Through the initiative, Zuckerberg funds work in education, science, and advocacy. He intends to unload 99% of his Facebook wealth during his lifetime to fund the initiative.
Article continues below advertisement
Retaining control for at least 20 years
Reacting to the decision by Facebook to drop the plan to create Class C stock, a new category of stock without voting power, Zuckerberg said he expected to sell anywhere between 35 million and 75 million shares he owns in Facebook over the next 18 months.
Considering how Facebook stock has appreciated over the past year and a half, Zuckerberg can continue selling stock to fund his philanthropic initiative and still be able to retain control of the company for at least 20 years.
As shown in the chart above, Facebook's advertising revenue grew 47% year-over-year to $9.2 billion in 2Q17—a sign that the company is successfully tackling competition from Snap (SNAP), Twitter (TWTR), Yelp (YELP), and Alphabet's (GOOGL) Google.
Class B stock converted to Class A stock
Zuckerberg owns 86% of Facebook's Class B stock, which carries ten times as many votes as Class A stock, which has one vote. When Zuckerberg sells Class B stock, it automatically converts to Class A stock. If Facebook had succeeded in creating Class C stock, it would have joined Silicon Valley peers Snap and Alphabet, which have three different share categories with varying voting power.