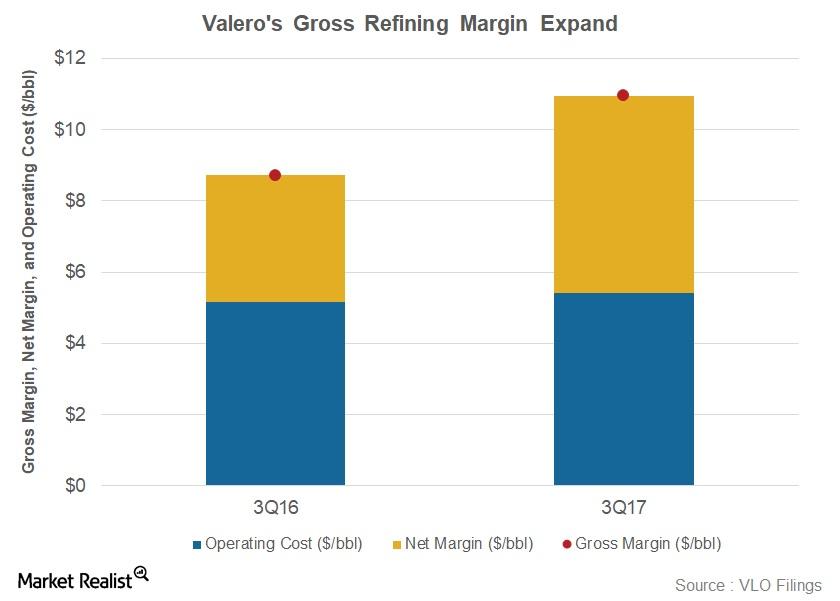 What Happened to Valero's Refining Margin in 3Q17?
VLO's refining margin in 3Q17
In 3Q17, Valero Energy (VLO) saw a rise in its gross refining margin by $2.2 per barrel over 3Q16 to $10.9 per barrel. Its operating costs rose $0.2 per barrel over 3Q16.
VLO's net refining margin rose $2.0 per barrel over 3Q16 to $5.5 per barrel in 3Q17 due to the rise in VLO's gross refining margin, partly offset by an increase in its operating cost per barrel on a YoY (year-over-year) in 3Q17.
The critical factors influencing Valero's GRM are refined product cracks, the sweet-sour crude oil spreads, and the costs of other feedstocks and blendstocks. In 3Q17, gasoline and diesel cracks have surged across zones in the US Gulf Coast, the US West Coast, the US Mid-Continent, and the North Atlantic.
Similarly, the Brent-WTI (West Texas Intermediate) and Brent-LLS (Louisiana Light Sweet) oil spreads have widened in 3Q17 compared to 3Q16. However, the Brent-Maya and the Brent-ANS (Alaska North Slope) spreads have narrowed YoY.
Article continues below advertisement
Valero's peers
Peer Marathon Petroleum (MPC) reported a rise in its refining margin. Its gross refining and marketing margin rose $3.5 per barrel over 3Q16 to $14.1 per barrel in 3Q17. The surge was primarily due to the wider blended LLS 6-3-2-1 crack. Its refinery utilization stood at 102% in 3Q17, compared with 100% in 3Q16.
Andeavor's (ANDV) consolidated refining index value has risen $5.5 per barrel over 3Q16 to $17.7 per barrel in 3Q17. This could lead to higher margin for ANDV in its 3Q17 earnings. Phillips 66 (PSX) is likely to see a YoY surge in its refining margins in 3Q17, likely due to the higher USGC WTI 3-2-1 crack in 3Q17 over 3Q16.
However, RIN (renewable identification number) costs are likely to dent the refining earnings of these downstream firms.