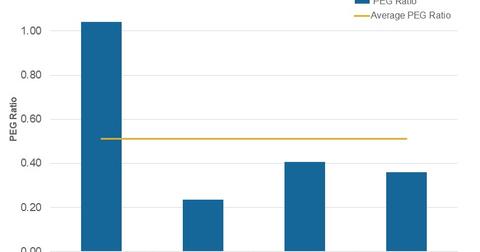 Chart in Focus: Integrated Energy Stocks' PEG Ratios
By Maitali Ramkumar

Oct. 9 2017, Updated 8:07 a.m. ET
Integrated energy stocks' PEG ratios
In the earlier part, we looked at integrated energy stocks' short interest movements. In this part, we will compare their PEG ratios. PEG ratio stands for a price-to-earnings-to-growth ratio.
This ratio examines a stock's valuation after factoring in expected future growth rate. Usually, the PEG ratio that is less than 1 signifies an undervalued stock.
ExxonMobil (XOM) has the highest PEG ratio, which stands at ~1.0, well above the peer average of 0.51. The peer average considers the average PEG of the four leading integrated energy companies we're discussing in this series.
The PEG ratios of Chevron (CVX), Royal Dutch Shell (RDS.A), and BP (BP) stand below the peer average at 0.23, 0.41, and 0.36, respectively.
Article continues below advertisement
Integrated energy stocks' capex
The PEG ratio considers not only growth rates in earnings for the next two years but also the long-term growth rate. To grow their earnings, integrated energy firms have been taking strict measures in the past few years.
XOM, CVX, Shell, and BP have been tweaking their cost structures to build a leaner model with a focus on core assets. Also, the capital expenditures have been optimized to concentrate on projects that are competitive, which fit their overall strategies.
Shell incurred the highest capex
Shell had the highest capex in 1H17 standing at $9.9 billion, of which 76% was in the Upstream segment and 24% in the Downstream segment. Shell is in the process of churning its Upstream portfolio to retain only competitive assets.
Shell expects its new projects, which started since 2014, to contribute ~1 MMboepd (million barrels of oil equivalent per day) by 2018.
Article continues below advertisement
Chevron's capex
Chevron spent $8.9 billion in 1H17 in capex, of which, ~89% was in the Upstream segment. Chevron continues to spend on its major Upstream projects such as Gorgon and Wheatstone in Australia and other projects globally.
For 2017, Chevron foresees 4%–9% growth in its net hydrocarbon production because of new fields startups and existing fields ramp-ups that are partially offset by declining maturing fields.
XOM and BP's capex in 1H17
In 1H17, XOM incurred capex of $8.0 billion, ~73% of which went toward its Upstream segment. XOM has an integrated method to capital spending. In the Upstream segment, ExxonMobil (XOM) expects five major projects to commence production in 2017 and 2018. These projects are expected to add 0.34 MMboepd of working interest capacity.
Also, BP's organic capex for 1H17 stood at $7.9 billion. BP has incurred 86% capex in the Upstream segment. In 1H17, around three major upstream projects came online. Another three projects started production in 3Q17.
BP plans to add around 1000 Mboepd (thousand barrels of oil equivalent per day) of new production net to BP by 2021. Of these, ~800 Mboepd is expected to be added by its key projects and ~200 Mboepd is expected from new portfolio additions.