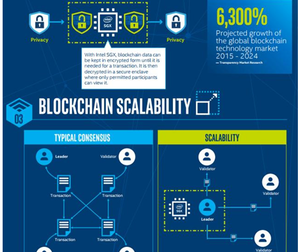 What Blockchain Means for Intel Now
By Puja Tayal

Updated
Intel and Blockchain-as-a-Service
Intel (INTC) is looking to tap the BaaS (blockchain-as-a-service) market, which, according to Tractica, could reach annual revenues of nearly $20 billion by 2025.
Blockchain technology is a decentralized public ledger that supports secure accounting. This technology was originally used to account for cryptocurrency transactions. IBM (IBM) is a leader in the BaaS market, and Microsoft (MSFT) is slowly catching up in this space with its Coco (Confidential Consortium) Framework.
Article continues below advertisement
Microsoft's Coco Framework uses Intel's SGX (software guard extensions) CPU (central processing unit) programming technology to enhance security and increases the scalability of enterprise blockchain transactions. The Intel-powered Coco framework is flexible and can be used on-premises or in the cloud. It's also compatible with all ledger protocols and can run on all operating systems or hypervisors.
Intel sold its SGX CPU technology alongside its Xeon server processors for cloud-based Coco blockchain enterprise application services. If the adoption of BaaS increases, the demand for Intel's Xeon processors and FPGA accelerators will likely increase.
Blockchain solutions providers adopt Intel's technology
Intel's SGX is also being used by blockchain solutions provider AlphaPoint in its new virtual machine TrustedVM to help secure access to blockchain-based assets. An Intel spokesperson told CoinDesk "Alpha Point is focused on digitizing a variety of physical assets, which we believe will create a lot of opportunities for both Intel and Alpha Point."
Notably, even Chinese Internet giant Tencent is using Intel's SGX for secure IoT (Internet of Things) transactions.
Intel's SGX technology faces no competition from Advanced Micro Devices' (AMD) and NVIDIA's (NVDA) GPUs (graphics processing units) as it's a CPU technology. AMD doesn't even have a competing CPU technology for Intel's SGX.