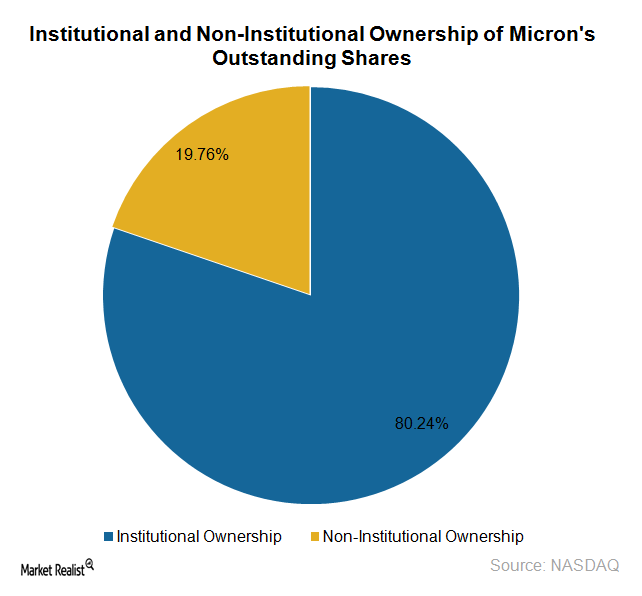 What Attracts Institutional Investors to Micron?
By Puja Tayal

Oct. 11 2017, Updated 10:36 a.m. ET
Micron attracts attention of institutional investors
Micron Technology (MU) overtook NVIDIA (NVDA) to become the top-performing semiconductor stock (SMH) in 2017. Micron is also trading above the semiconductor memory average. Micron's growth momentum attracted the attention of institutional investors.
Recently, several hedge funds have been increasing their stakes in Micron. On September 30, 2017, CIBC World Markets boosted its stake in Micron by 859.5% to $32.5 million. It now owns an ~0.10% stake in Micron.
The move by Sun Microsystems co-founder Bill Joy, who recently joined hedge fund firm Water Street Capital, made a splash. Joy convinced the fund, which had previously gained by shorting Micron, to acquire a large, long-term position in Micron. 
The firm has an ~$2.5 billion equity portfolio, which invested 25% of its total assets in Micron stocks and options.
Article continues below advertisement
Why is Bill Joy bullish on Micron?
A shift from a short position to a long position shows the confidence Joy has in Micron. He believes the stock could experience sustainable growth as demand for DRAM[1. dynamic random access memory] would be spurred by the advent of cloud computing, AI (artificial intelligence), and augmented and virtual reality applications on smartphones.
Joy expects Micron stock price to reach as high as $64.00, representing an upside of 64% from the current price. He has considerable experience in DRAM markets, as Sun Microsystems was one of the biggest DRAM customers. 
Water Street Capital has a history of making successful tech investments. It realized a big gain by investing in Apple (AAPL) in late 2003, well before iPhone was launched in June 2007.
However, not all analysts agree with Joy's comments. We'll look at the counter-analysis in the next part of this series.