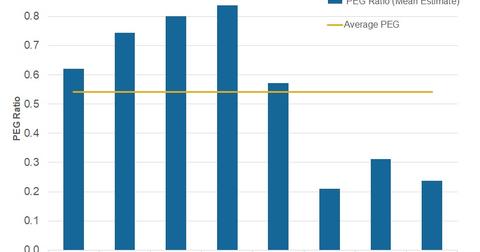 What Andeavor's Price–to–Earnings Growth Ratio Tells You
By Maitali Ramkumar

Updated
Andeavor's PEG
The PEG ratio is a price-to-earnings to growth ratio. The ratio intends to examine a stock's valuation after factoring in its expected future growth rate. We also consider Andeavor's (ANDV) mean PEG estimate. Usually, everything else being equal, a PEG ratio lower than one signifies an undervalued stock.
Andeavor's PEG ratio stands at 0.62—above the peer average of 0.54. The peer average considers the average PEG of eight American downstream companies.
Article continues below advertisement
Andeavor's PEG ratio is high in the refining industry, which is quite different from the recent past. Andeavor had been trading at a discount to the peer average. The rise in Andeavor's stock price led to an increase in its valuation, pushing its PEG ratio above the peer average. For more on the rise in Andeavor's stock, see Part 1 of this series.
Andeavor's growth activities
Andeavor continues its growth activities in its refining, logistics, and marketing segments.
In refining, Andeavor has begun construction for its Los Angeles Refinery Integration and Compliance Project. The project is supposed to deliver $125 million in annual EBITDA[1. Earnings before interest, tax, depreciation, and amortization] with an expense of around $510 million. It's expected to start in 2019. Also, in July 2017, Andeavor got a permit for its Isomerization project at its Anacortes refinery. The project is expected to cost $170 million, and it's anticipated to deliver $40 million in annual EBITDA. The project is expected to be operational in 2Q18.
Article continues below advertisement
In the logistics segment in July, Andeavor reached an agreement for terminalling and transportation services with Petróleos Mexicanos in Mexico. This agreement should let the company supply 30,000–40,000 barrels per day of transport fuels in Mexico. Also, recently, Andeavor declared its plan to progress with its Conan Crude Oil Gathering Pipeline system. The company received enough third-party commitments to go ahead with the project. The project is slated to be operational by mid-2018, with a total investment of $225 million. In the marketing segment, in July 2017, Andeavor acquired 39 stores, expanding its retail network in Northern California.
Peers PEG ratios
Phillips 66 (PSX), Marathon Petroleum (MPC), and Valero Energy (VLO) have the highest PEG ratios in American refining industry. PSX, MPC, and VLO are trading at 0.84, 0.80, and 0.74 PEG, respectively. Usually, everything else being equal, higher the PEG ratio, expensive is the stock (after considering future growth). Delek US Holdings (DK) also trades above peer average at 0.57 PEG ratio.
Other players like HollyFrontier (HFC), PBF Energy (PBF), and CVR Refining (CVRR) trade below the peer average at 0.21, 0.31, and 0.24, respectively.