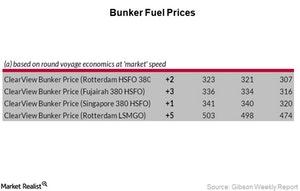 Week 43: Where Are Bunker Fuel Prices Headed?
By Sue Goodridge

Updated
Week 43
In the previous part of this series, we saw that VLCC (very large crude carrier) and Suezmax demand in week 43 (week ending October 27, 2017) rose to levels not seen in the last few months. In this part of the series, we'll see how crude oil and bunker fuel prices fared in week 43.
Crude oil prices
In week 43, crude oil (DBO) prices rallied to hit a 27-month high on the back of comments by Prince Mohammad bin Salman, Saudi Arabia's Crown Prince, that supported an extension to the ongoing OPEC production cut. Geopolitical tensions in the Middle East have fueled the bullish sentiments. Brent crude oil prices rose from $57.23 per barrel on October 20, 2017, to $59.3 per barrel on October 27, 2017.
Bunker fuel prices
On October 26, 2017, the average bunker fuel price was $376 per ton compared to $375 per ton on October 19, 2017. According to the Gibson report for week 43, the bunker fuel prices at Rotterdam were $322 per ton on October 26, 2017, compared to $323 per ton in the previous week. The bunker fuel prices at the Port of Fujairah rose to $343 per ton on October 26 compared to $336 per ton on October 19, 2017, according to the same report.
Which companies are impacted?
Industries that transport products on ships include LNG (liquefied natural gas) carriers, product tankers, dry bulk carriers, and crude oil tankers. For shipping companies, bunker fuel is one of the most important costs. Bunker fuel prices are closely related to oil prices. A rise or fall in oil prices translates to a rise or fall in bunker fuel prices.
Some of the major crude oil tanker companies are DHT Holdings (DHT), Teekay Tankers (TNK), Tsakos Energy Navigation (TNP), and Euronav (EURN). Gaslog and Dyangas LNG Partners (DLNG) are LNG carrier companies. Navios Maritime Partners (NMM) is a major dry bulk shipper.