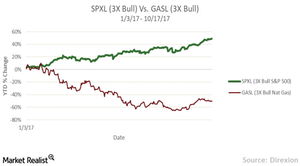 How Weather Influences Natural Gas Prices
Direxion
It was a dark, dreary October night… Wait. Isn't that good for natural gas?
If, in real estate, everything is "location, location, location," then with natural gas investing, everything is "weather, weather, weather." Of course, the price of natural gas is really a supply and demand game, but weather so often determines price action.
On the supply side, the Baker Hughes rig count for natural gas has been relatively flat since mid-year. It now stands at 185. Back in 2008, that number was well over 1,500. Plus, although President Trump has been making it easier for coal to succeed, many utility factories are already fitted for a certain amount of coal versus natural gas, so any changes would be on the margin.
Article continues below advertisement
On the supply-and-demand balance front, the current inventory stands a 3,748 million cubic feet (MCF), down 153 MCF from last year and -0.2% from the five-year average. Most of the time, the "fill season"—when natural gas manufacturers are filling up pipelines—ends around the first week of November and the "drain" begins. This year, inventories, as we noted above, are in better shape than last year. Last year, natural gas dropped precipitously to almost $2.50 before rallying all the way to $4.00 after fill season ended as we sit with natural gas at $3.00, down 19% for the year. Will that happen again? Only Mother Nature knows, but GASL (3x Bull) Natural Gas and GASX (3x Bear) Natural Gas can help as you consult your farmer's almanac.
Past performance does not guarantee future results.
Market Realist
Weather conditions influencing natural gas prices
Natural gas (GASL)(GASX) prices are down 22.5% YTD through October 19 and are now settled at around $2.87 per MMBtu (million British thermal units). The fall in natural gas prices this year could be due to ample supply and unfavorable weather forecasts that drove down the commodity's demand. A fall in natural gas prices would mean deceleration in margins for natural gas producers like Chesapeake Energy (CHK), Southwestern Energy (SWN), Rice Energy (RICE), and Rex Energy (REXX) that would ultimately affect their stock prices.
Despite rig counts falling around 90% from its record high reached in 2008, the natural gas supply rose significantly in the subsequent years, mainly as a result of oil production. Accordingly, oil rigs could also be a major source of natural gas production influencing prices.
To a large extent, natural gas prices are driven by weather conditions. Since the weather in the United States for the next few months is expected to be mild, demand for natural gas (UNG) could remain subdued, keeping the pressure on prices.
If natural gas prices remain high, coal could be used as an alternative economical fuel for utility companies. On the other hand, lower natural gas prices would lessen coal (KOL) dependence.