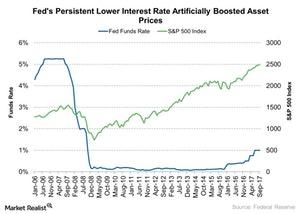 What Buffett Believes about Stock Valuations and the Current Interest Rate
Warren Buffett in an interview with CNBC
In his latest interview with CNBC's Squawk Box on Tuesday, October 3, 2017, billionaire investor Warren Buffett shared his views on stock valuations and how valuations fare next to the current interest rate. Buffett also gave his view of the proposed elimination of the estate tax, corporate tax reform, Wells Fargo, and his favorite stock picks.
Article continues below advertisement
Warren Buffett on stock valuations
Buffett stated the following in the interview: "Valuations make sense with interest rates where they are." The current interest rate suggests that the valuation of the stock market (SPY) (QQQ) is not very expensive.
The interest rate has been playing a major role in the equity valuations. The Fed's persistent lower interest rate since 2008 has been boosting various asset prices, while the equity market (IWM) (IVV) rally we've seen has likely been driven by easy monetary policy.
The Fed's federal funds rate is now in the range of 1.0%–1.25%. Since December 2015, the Fed has continued a gradual rate-hike process and has hiked the key rate four times. Many economists argue that a gradual rate hike is appropriate when the economy shows strength. The S&P 500 Index (SPY) showed a strong performance between December 2015 and September 2017, rising ~21% during this time period.
According to Buffett, when the ten-year Treasury note yields 2.3%, stock valuations look attractive and are considerably better investments than bonds. If the rates of the ten-year Treasury notes were 5% or 6%, current stock valuations would be something different.
Buffett also stated the following: "[Low rates since 2009 have] been a powerful factor, and the longer it persists, the more people start thinking in terms of something close to the rates they've seen for a long time…If I can be short the 30-year bond at three percent…stocks are going to far outperform bonds."
In the next part of this series, we'll analyze Buffett's view of the overall market.