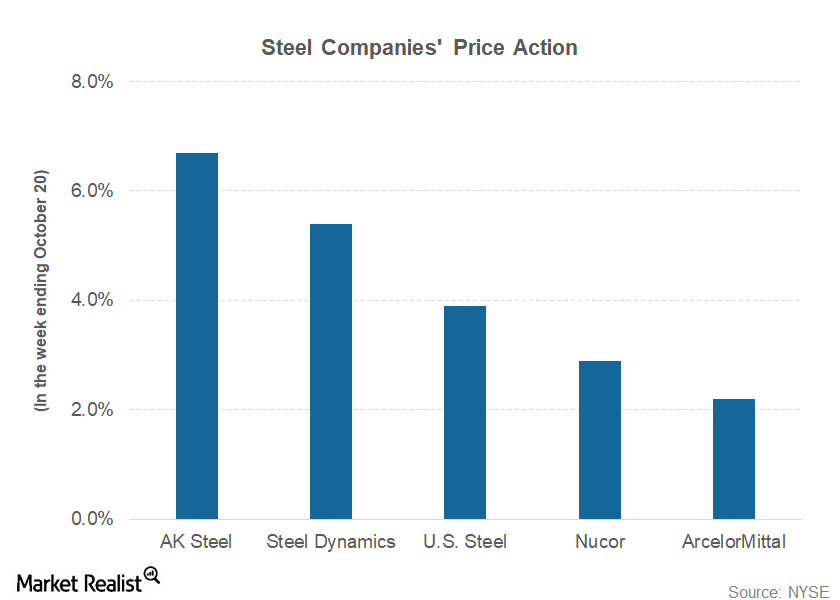 Weekly Update: US Steel Industry Continues to Defy Pessimists
Weekly update
Article continues below advertisement
Price action
Looking at last week's price action, AK Steel was the biggest gainer among the top five US-based steelmakers (CLF). AK Steel stock rose 6.7% in the week ending October 20. U.S. Steel Corporation and Nucor rose 3.9% and 2.9%, respectively, last week. It's the second consecutive week that US steel stocks (XME) saw upward price action. In the week ending October 13, lower Chinese steel exports, concerns about Kobe Steel's crisis impacting the global steel supply, and reports of consolidation in the US rebar market supported steel companies' price action. Read US Steel Had a Big Week: What Happened? to analyze the different factors that influenced steel stocks' price action in the second week of October.
Last week was full of action for US steel companies. Steel stocks have been dismal in 2017 despite the presumably supportive Trump Administration. In 2016, "Trump trade" and rising steel prices lifted steel stocks.
Series overview
In this series, we'll take a closer look at the major developments that impacted US steel stocks in the third week of October. We'll also look at the key events that US steel investors should follow this week.