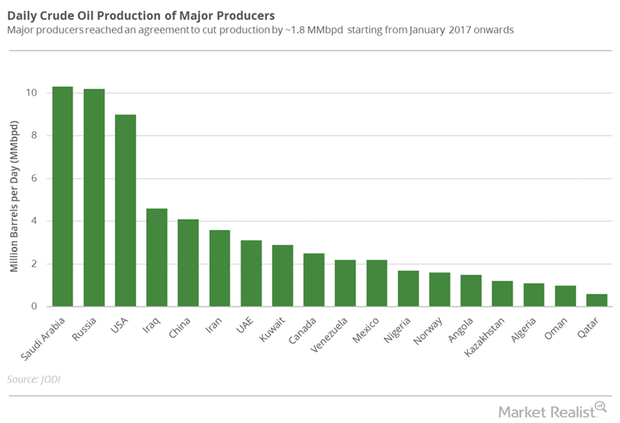 US Crude Oil Futures and SPY Diverge
US crude oil futures 
US crude oil (UCO) (DWT) futures contracts for November delivery rose 0.6% to $49.58 per barrel on October 9, 2017. Brent crude oil futures rose 0.3% and closed at $55.79 per barrel on the same day.
On October 9, 2017, Saudi Arabia said that it would curb crude oil exports more. Saudi Arabia has been curbing crude oil exports as part of the production cut deal. It would help rebalance the oil market and support oil (BNO) (USO) prices. However, some traders think that the drop in exports from Saudi Arabia would be offset by record US crude oil exports.
Article continues below advertisement
Saudi Arabia's crude oil exports 
Saudi Arabia's state-owned company, Saudi Aramco said that it would reduce crude oil exports by sea 7% in November 2017. Saudi Arabia is expected to cut crude oil exports to worldwide customers by 560,000 bpd (barrels per day) to 7.15 MMbpd (million barrels per day) in November 2017. However, Saudi Arabia exported 6.7 MMbpd in September 2017.
Wall Street performance
The S&P 500 (SPY), Dow Jones Industrial Average Index (DIA), and NASDAQ (QQQ) fell 0.18%, 0.06%, and 0.16%, respectively, on October 9, 2017.
The S&P 500 has risen 14% in 2017 and hit a record last week. The S&P 500 hit a record due to the expectation of stronger 3Q17 earnings results and optimism following President Trump's tax reduction proposal.
The energy (OIH) (XLE), IT (XLK) (VGT), utilities (XLU) (VPU), and real estate (VNQ) (IYR) sectors supported SPY on October 9, 2017. However, the healthcare (XLV), industrials (XLI) (ITA), and financials (XLF) (VFH) sectors limited the upside for SPY on October 9, 2017.
Series overview 
In this series, we'll look at Hurricane Nate, the US dollar, crude oil's price performance in the last 18 months, Cushing crude oil inventories, and the US crude oil rig count.