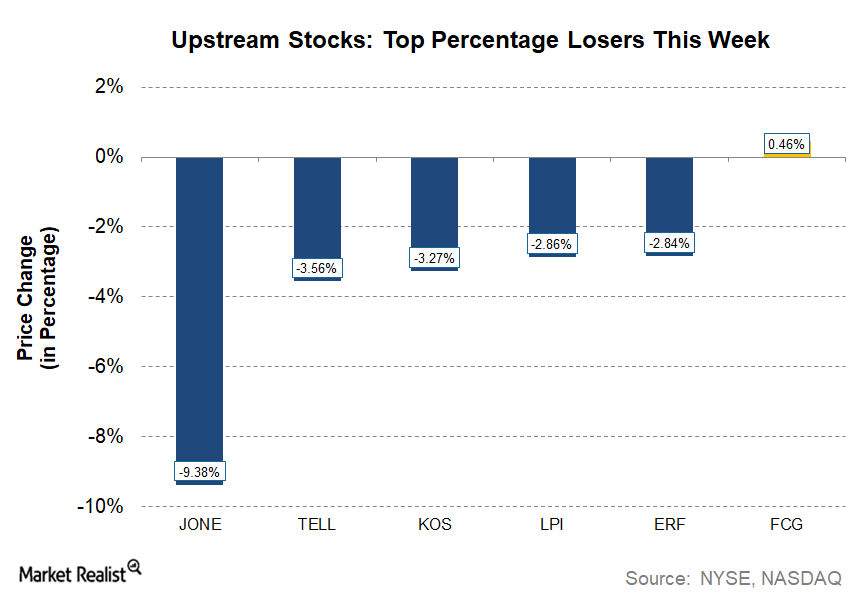 Upstream Losers: JONE, TELL, KOS, LPI, and ERF
By Nicholas Chapman

Oct. 4 2017, Updated 1:35 p.m. ET
Upstream losers
Having looked at the percentage gainers, let's look now at the percentage losers from the oil and gas production, or upstream, sector in the United States for the current week starting October 2, 2017. To compile the list of top upstream gainers, we've used only oil and gas producers with market capitalizations greater than $100.0 million and last week's average trading volume greater than 100,000 shares.
Article continues below advertisement
Jones Energy: Top loser
In the week starting October 2, 2017, Jones Energy (JONE) has fallen ~9.0%, from $1.92 to $1.74. It has fallen every day so far this week. However, it's worth noting that in the last five weeks, JONE stock has risen from a low of $0.85 to a high of $2.21, an end-to-end rise of almost 160.0%. So the weakness in the last two days is not surprising since the stock was in an overbought condition and crude oil (USO) and natural gas (UNG) prices were on the decline.
In the list of top decliners, Jones Energy (JONE) was followed by Tellurian (TELL), Kosmos Energy (KOS), Laredo Petroleum (LPI), and Enerplus (ERF). These stocks have fallen 3.6%, 3.3%, 2.9%, and 2.8%, respectively, so far this week.
On Monday, Laredo Petroleum (LPI) announced that it signed an agreement to sell its interest in Medallion Pipeline for net cash proceeds of ~$825.0 million. It plans to use these proceeds to pay down a portion of its outstanding debt. Last week, on September 27, 2017, Enerplus (ERF) paid a dividend of $0.01 Canadian per share on its common stock. On October 3, 2017, the stock closed at $9.59.
The First Trust Natural Gas ETF (FCG), which represents an index of stocks across the natural gas exploration and production industry, has risen slightly by 0.46% this week. In comparison, the SPDR S&P 500 ETF (SPY) has risen 0.65% this week.