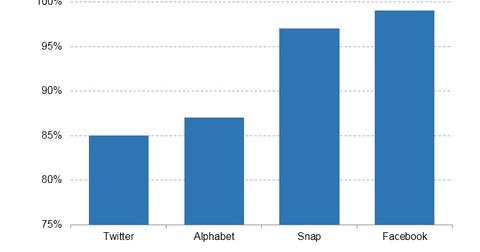 Twitter Stepping Up Efforts to Make Its Platform Safer
By Neha Gupta

Oct. 30 2017, Updated 1:00 p.m. ET
Twitter outlines new safety guidelines
Twitter (TWTR) recently outlined policy changes aimed at bolstering its war on hateful and abusive practices on its social media platform. In an email to its Trust and Safety Council, a group that advises Twitter on addressing safety issues on its site, the company detailed new safety policy guidelines, which were first reported by Wired.
Details of the new safety policy outline emerged just a few days after Twitter's CEO, Jack Dorsey, noted that the company hadn't done enough to protect its users and promised to implement more aggressive actions to make the site safer.
Article continues below advertisement
Cracking down on offensive imagery and symbols
Twitter's safety policy updates include plans to crack down on hateful imagery and symbols. The policy outline addresses how Twitter will treat adult and graphic violence content on its platform. Additionally, Twitter outlined how to deal with violent groups or organizations that celebrate violence.
Twitter has recently employed technology (QQQ) such as artificial intelligence to fight abuse on the platform. The new safety policy guidelines indicate that Twitter is stepping up efforts to clean up its platform.
Restoring user confidence
Twitter has lost users and faced criticism over abuse and harassment on the platform. By stepping up the war on hateful and abusive accounts, Twitter could restore the confidence of its users. This could, in turn, help the company to boost user engagement and attract more advertisers to its platform.
Like Facebook (FB), Alphabet (GOOGL), and Snap (SNAP), Twitter depends on advertising for the majority of its revenues. In 2Q17, Twitter generated 85% of its total revenues from advertising. Facebook, Alphabet, and Snap earned 99%, 87%, and 97%, respectively, of their 2Q17 revenues from advertising.