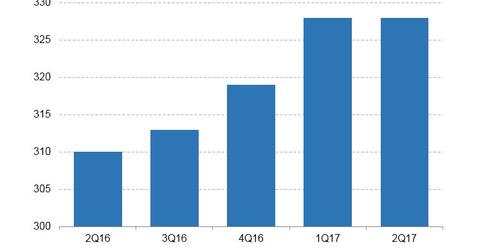 Twitter Pledges More Transparency for Political Ads
By Neha Gupta

Updated
Transparency center for ads
In addition to outlining new safety policies aimed at tackling abuse and harassment on its network, Twitter (TWTR) has also pledged to be more transparent about ads that run on its platform.
In his blog post, Bruce Falck, the chief of revenue product and engineering at Twitter, outlined the steps the company would take to ensure greater transparency for ads.
The company said that in the coming weeks, it would launch a transparency center to show details of ads running on its network. The center would show ads that are currently running on Twitter and how long the ads have been running on the platform.
For political ads, Twitter plans to make additional disclosures such as the entity funding the campaign, how much the entity is spending on the campaign, and the total amount the entity has spent on Twitter ads. Additionally, Twitter said it would clearly label political ads.
Article continues below advertisement
Mandated public database for ads
Twitter's plan for a transparency center for ads seems to put it ahead of an impending regulation that would require online platforms with a certain minimum number of users to maintain a database for ads up to a year.
The Honest Ads Act, a bill that was recently introduced in the Senate, would require platforms with at least 50 million monthly users to maintain a public database. The database would track paid political ads worth more than $500 that have run on their sites in the previous 12 months.
Twitter to enforce new ad rules in US first
Twitter finished 2Q17 with 328 million monthly users. Facebook (FB) has more than 2 billion monthly users on its flagship network, while Snap's (SNAP) Snapchat finished 2Q17 with 173 million daily users. Snapchat is believed to have more than 300 million monthly users.
Twitter's new ad policies would first be rolled out in the US (SPY) before going globally. Overseas, India (INDA) is one of the countries where Twitter is widely used.