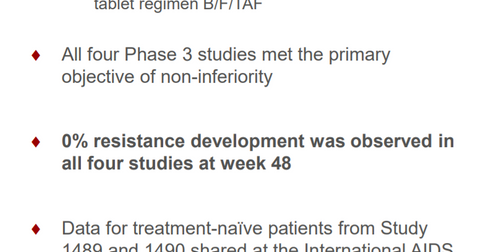 This Could Really Drive Gilead's Revenue Growth in 2018
By Daniel Collins

Updated
About Bictegravir
Gilead Sciences' (GILD) Bictegravir is an integrase inhibitor under investigation in combination with TAF (tenofovir alafenamide) and FTC (emtricitabine) for the treatment of adult individuals with HIV-1.
Article continues below advertisement
Clinical trial results
In October 2017, Gilead Sciences presented the results of the phase-3, 48-week trial that evaluated safety and efficacy in switching a virologically suppressed HIV-1 infected adult patients from a multi-tablet regimen consisting a bPI (boosted protease inhibitor) to a fixed-dose combination of BIC (bictegravir 50 mg), FTC 200 mg, and TAF 25 mg regimen.
In the phase-3 trial, BIC/FTC/TAF regimen demonstrated non-inferiority, compared with bPI regimens. The BIC/FTC/TAF regimen also didn't show treatment-emergent resistance at 48 weeks.
In the trial, at week 48, 92.1% of patients on BIC/FTC/TAF therapy arm had HIV-1 RNA less than 50c/mL compared with 88.9% of patients in the bPI therapy arm. No patients on BIC/FTC/TAF therapy arm showed any renal adverse effect. In the trial, 4% of the patients on BIC/FTC/TAF therapy showed grade-3 or -4 adverse effects, compared with 6% of patients on bPi therapy.
Gilead Sciences has already submitted a new drug application to the FDA (US Food and Drug Application) and the EMA (European Medicines Agency) for BIC/FTC/TAF therapy. The FDA has provided an action date of February 12, 2018.
Notably, the approval of BIC/FTC/TAF is expected to strengthen Gilead Sciences' HIV franchise. GlaxoSmithKline and Pfizer have developed a joint venture ViiV Healthcare for the development and commercialization of HIV drugs. Gilead Sciences' peers in HIV drug market include Johnson & Johnson (JNJ), Bristol-Myers Squibb (BMY), and GlaxoSmithKline (GSK). Notably, the SPDR S&P 500 ETF (SPY) invests ~0.49% of its total portfolio holdings in Gilead Sciences.