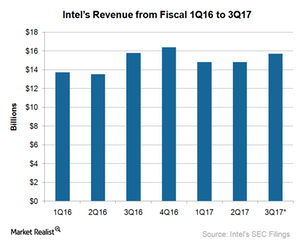 This Could Drive Intel's Revenues in Fiscal 2017 and 2018
By Puja Tayal

Oct. 24 2017, Published 3:14 p.m. ET
Intel's revenue drivers
Intel (INTC) is transitioning from a primarily PC (personal computer) business to a data-centric business, and this fact is visible in its revenue growth. The company claims to earn more than 40% of its revenue from its non-PC, data-centric businesses. It's this business that has been driving the company's overall revenue.
In fiscal 2Q17, Intel's revenue rose 9.1% YoY (year-over-year) to ~$14.7 billion, with its non-PC data-centric businesses rising 16% YoY. However, after adjusting for the McAfee business, which it spun off in fiscal 1Q17, Intel's revenue rose 14% YoY.
Fiscal 3Q is a seasonally strong quarter for Intel because back-to-school season drives PC sales, and new flagship phones drive mobile modem sales. Intel expects its fiscal 3Q17 revenue to grow 6% sequentially to $15.7 billion.
Article continues below advertisement
Apple (AAPL) launched its iPhone 8 in September 2017, and it sourced modems for some of its phones from Intel. However, the impact of this won't likely be visible until fiscal 4Q17, due to delays in the launch. Intel has also completed the acquisition of Mobileye, which would add roughly $100 million to the former's IoT (Internet of Things) business in fiscal 3Q17.
Given the above growth trends, Intel has increased its full-year revenue guidance from $60 billion to $61.3 billion.
What analysts expect from Intel's fiscal 3Q17 revenues
Intel's fiscal 3Q17 guidance is in line with the Wall Street analysts' revenue expectations. Bernstein analyst Stacy Rasgon expects Intel to report revenues of $15.7 billion in fiscal 3Q17, stating that both Gartner and IDC (International Data Corporation) estimate that PC shipments will rise 10% sequentially in calendar 3Q17, which is slightly above the seasonal growth.
However, data from Taiwanese (EWT) ODMs (original design manufacturers) showed that notebook shipments rose 7% sequentially—slightly below seasonal growth, according to Rasgon. Rason also stated that Intel's PC revenue could be slightly lower in fiscal 3Q17 due to the overshipment of PC processors in fiscal 1H17 and falling ASPs (average selling prices) due to competition from Advanced Micro Devices (AMD).
Given Intel's current situation, Stacy Rasgon doesn't expect its revenue to grow above the analysts' estimate but doesn't rule out the possibility of an upside due to the strong growth in memory and slightly better PC shipments.
In coming quarters, Rasgon expects the data center business to be Intel's biggest growth driver, while MKM analyst Ruben Roy expects Intel's data center business to benefit from the ramp of the Purley platform.
Long-term growth forecast
Over the next three years, Intel expects its revenue to grow at an average annual rate of 1% to 4%, whereas IC Insights expects the IC (integrated circuit) market (SMH) to grow 22% in 2017. Intel's growth rate is not in sync with the semiconductor industry's growth rate, however, because the latter's growth is largely being driven by memory chips, wherein Intel has little exposure.
In the next part of this series (below), we'll look at Intel's profits.