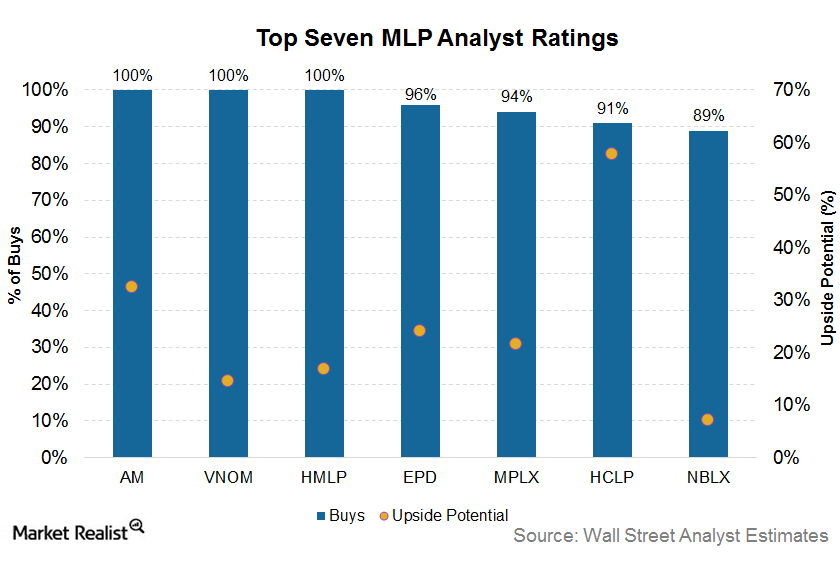 The Top 7 Analyst Favorite MLPs
MLP analyst ratings
Energy MLPs (master limited partnerships) have been weak in recent trading sessions, despite the gains in crude oil and natural gas prices. The Alerian MLP ETF (AMLP), which consists of 25 energy MLPs, has lost all its gains from September due to recent weakness and ended flat for the month on September 28, 2017.
US crude oil has risen 9.2% since the beginning of the month. (For a recent update on crude oil, check out the series Are US Crude Oil Supplies Getting Bearish for Oil Prices?)
Article continues below advertisement
Most buys
Antero Midstream Partners (AM), Viper Energy Partners (VNOM), and Hoegh LNG Partners (HMLP) have the most "buys" among all the listed publicly traded limited partnership. All three MLPs have 100% "buy" ratings from analysts, but among these three, AM has the highest percentage of "strong buys," followed by Viper Energy Partners and Hoegh LNG Partners.
These three MLPs are followed by the following in terms of "buy" ratings:
Upside potential
Hi-Crush Partners has the highest upside potential (58%) from its current price levels among the top seven MLPs. Noble Midstream Partners has the lowest upside potential at 7%.
For more insight into the top 10 integrated energy stocks by analyst ratings—including Royal Dutch Shell (RDS.A), ExxonMobil (XOM), and Chevron (CVX)—check out Market Realist's Analysts' Favorite Integrated Energy Stocks: Here Are the Top 10.
Continue reading this series for a closer look at the Wall Street analysts' favorite MLPs. Below, we'll discuss recommendation details, as well as each of these seven MLPs' upside potentials, valuations, and outlooks.