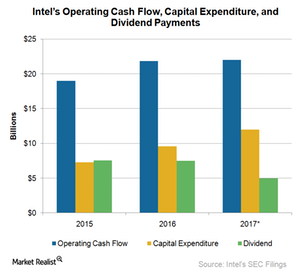 The Past, Present, and Future of Intel's Dividend
By Puja Tayal

Oct. 25 2017, Updated 2:55 p.m. ET
A look at Intel's ability to pay dividend
Intel (INTC), which has been ruling the PC (personal computer) and server markets, is slowly facing competitive pressure from Advanced Micro Devices (AMD) and NVIDIA (NVDA). Until now, Intel's competitive advantage has helped the company pay an uninterrupted dividend for the past 25 years. But with increasing competition, will Intel be able to keep it up?
The most important factor in dividend payments is cash flows. Only a company with stable and predictable cash flows can pay a regular dividend.
Article continues below advertisement
For instance, Qualcomm (QCOM) has the highest dividend yield in the semiconductor industry because it earns stable cash flows from its licensing business. On the other hand, Micron (MU) doesn't pay a dividend because it operates in a highly cyclical memory market, wherein cash flows are fluctuating.
Intel's payout ratios
In Intel's case, it has a dividend payout ratio of ~40% of its FCF (free cash flow). In fiscal 2015 and 2016, it earned FCF of $11.5 billion to $12 billion but paid only $4.5 billion and $4.9 billion in dividends. Such low ratio shows that the company has plenty of financial flexibility to continue paying dividends.
These figures are part of a growth scenario. In a scenario wherein Intel's cash flows are cut in half due to a downturn, it could still spend $5 billion on dividends. The only difference would be the dividend payout ratio would increase to 90% or higher.
Intel's cash flow during downturn
Notably, Intel faced a downturn in fiscal 2008 and fiscal 2009, when the financial crisis struck the global economy. At that time, Intel's earnings fell more than its revenues. Its revenues fell 2% and 7% in 2008 and 2009, respectively, while earnings fell 22% and 16%, respectively. Its FCF fell to $5.7 billion and $6.7 billion, respectively, but this cash flow was still sufficient to pay dividends.
Intel's dividend payments are thus likely sustainable because it has predictable cash flows. In the next part, we'll discuss what could happen if Intel's cash flows were to dry up.