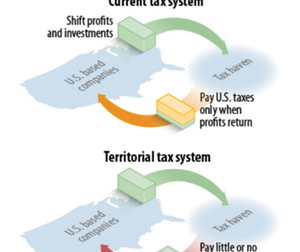 The Gray Areas in the US Tax Reform Proposal
By Puja Tayal

Oct. 17 2017, Updated 3:36 p.m. ET
Other proposed tax reforms
The United States has not implemented meaningful tax reform in more than 30 years, although many reforms were proposed. Over the past three years, two major proposals have emerged—one by former House Ways and Means Committee chairman Dave Camp and the second by former President Barack Obama.
Article continues below advertisement
The Camp proposal
Under Camp's plan proposed in 2014, the corporate tax rate would be reduced to 25%, close to the Republicans' proposal of a 20% corporate tax rate. On foreign earnings, Camp proposed a tax exemption on 95% of repatriated overseas earnings.
He added a "round-tripping" provision, in which US companies are charged corporate tax on income earned from the sale of imported goods in the US.
The idea behind this plan was to discourage US companies from manufacturing abroad just to reduce their taxes. Although the intention is good, these US companies would pay the penalty.
For example, a European company would manufacture goods in Ireland and sell them in the US but only pay 12.5% tax in Ireland. On the other hand, a US company would pay a 25% tax—the 12.5% Irish tax and the balance of 12.5% in the US.
US semiconductor companies such as NVIDIA (NVDA) and Advanced Micro Devices (AMD) manufacture their chips in South Korea and Taiwan (EWT), which is cost-effective. These companies sell the chips in the US and around the world.
The new White House proposal is silent about the tax rate on the sale of imported goods in the US. As the proposal is thinly detailed, there are concerns that Congress would add this tax to increase its corporate tax base.
The Obama proposal
Under the Obama plan proposed in his fiscal 2016 budget, there would be no tax exemption on foreign earnings. Instead, a minimum tax would apply to overseas profits earned so far.
Under the plan, US companies would not be charged additional US corporate taxes on income from higher-tax countries like Germany. However, they would pay the additional US corporate tax on income from lower-tax countries like Ireland.
Unlike Camp's proposal, Obama's proposal levies tax not only on goods sold in the US but also on goods supplied worldwide. Under Obama's proposal, US companies would pay a higher corporate tax than they do today.
The new Republican framework proposes a minimum tax on active overseas earnings but does not specify the reduced rate. Such a thinly briefed proposal makes it difficult to analyze how the new reform would impact US companies.
We'll look at other aspects of the new proposal in the next article.