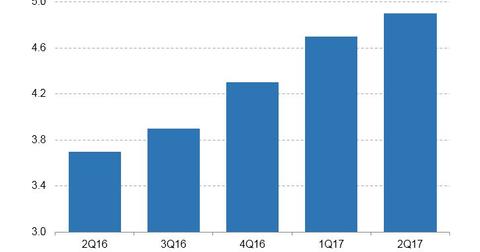 The Cost Implications of Facebook's Self-Hosting
By Neha Gupta

Updated
Search for cost synergies
Facebook (FB) withdrawing WhatsApp hosting from IBM (IBM) cloud may have more to it beyond trying to take control of the data. The search for cost synergies may be part of the play as well.
A look at Facebook's financial statements reveals that the company's operating expenses have risen steadily over the years. *In fiscal 2016, for instance, FB's operating expenses increased to $15.2 billion, up from $11.7 billion in the prior quarter. 
In 2Q17, Facebook's operating expenses surpassed $4.9 billion, compared to $3.7 billion in 1Q17 and $3.7 billion in 2Q16. Considering that Facebook generated revenues of $9.3 billion in 2Q17, its operating expenses claimed nearly 53% of total revenues generated during the quarter.
Article continues below advertisement
Snap paying Google $2.0 billion for data hosting
Facebook's rising operating expenses could partly be attributed to costs of hosting data on third-party platforms. Snap (SNAP), whose Snapchat service has 173 million daily users compared to WhatsApp's 1.0 billion daily users, is spending $2.0 billion to host its data on Alphabet's (GOOGL) Google Cloud over the next five years. 
A portion of Snapchat's data is also hosted on Amazon (AMZN) cloud at the cost of $1.0 billion over the next five years.
Data hosting is not cheap
Snap's hosting expenses spotlight how costly it could be for Facebook to host WhatsApp data on a third-party cloud platform. As such, bringing the hosting of its digital assets in-house may help Facebook lower its operating cost burden, potentially boosting earnings.
In the meantime, investments in self-hosting, such as the Virginia data center project, could keep Facebook's costs elevated.