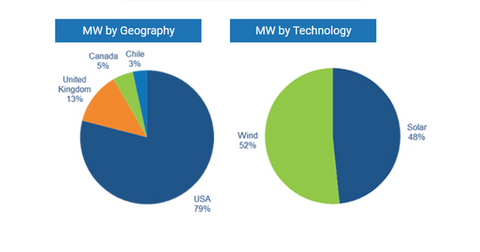 TerraForm Power: SunEdison's Investment Yield Vehicle
By Alexis Tate

Updated
Yieldco launch
SunEdison (SUNEQ) launched a yieldco under the name SunEdison Yieldco in January 2014, which was renamed TerraForm Power in May 2014. After its initial public offering in July 2014, TerraForm Power (TERP) became a holding company. 
Article continues below advertisement
About TerraForm Power
TerraForm Power owns and manages clean energy generation plants. These assets may be acquired from the parent company or third parties. The assets are located in the United States, Canada, the United Kingdom, Canada, and Chile. So far, the company owns and operates 500 solar and wind energy installations. TerraForm Power's 2,607 MW (megawatt) renewable energy portfolio enables power production around the clock. After its parent company filed for bankruptcy protection, TERP has had a lot of turbulence. Its assets pipeline and stock price have been declining since the bankruptcy was filed. The yieldco hasn't been able to file its overdue 10-Q forms because it depends on SunEdison for accounting services.
In the first half of 2017, TERP reported $322.0 million in net revenues, a 6.0% fall compared to $341.0 million in the first half of 2016. Adjusted revenue generated per MWh (megawatt hour) for the first half of 2017 was $84. That's 5.0% lower than $88 in the first half of 2016.
Competition
TerraForm Power faces competition from various fronts. Utilities, independent electricity generators, and renewable energy developers are TerraForm Power's competitors. Many other companies in the clean energy (PBW) industry have also sponsored their own yieldcos. Two peers based in the United States are NRG Yield (NYLD) and NextEra Energy Partners (NEP). Another competitor is Abengoa Yield (ABY), which is based in Spain.
In the next part of this series, we'll look at TerraForm Global, SunEdison's second yieldco.