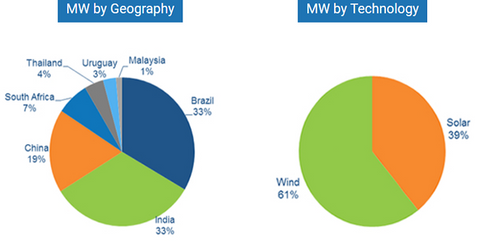 TerraForm Global: SunEdison's Other Yieldco
By Alexis Tate

Updated
Yieldco launch
SunEdison (SUNEQ) formed TerraForm Global in early 2015 to own and operate renewable energy assets in emerging markets. The yieldco went public on the NASDAQ in August 2015 after raising $675.0 million for the initial public offering. It's based in Bethesda, Maryland. 
Article continues below advertisement
About TerraForm Global
TerraForm Global (GLBL) is a clean power generation yieldco with a diverse portfolio of projects in high-growth emerging markets. These projects may be acquired from its parent company or from third parties. The assets are located in China, India, Malaysia, Thailand, South Africa, Brazil, Honduras, Costa Rica, Peru, Nicaragua, and Uruguay. Its customers include utility, commercial, industrial, and government customers. The company currently has more than 40 wind and solar energy projects. Its 917 MW (megawatts) of renewable energy portfolio enables power production around the clock.
TerraForm Global has PPAs (power purchase agreements) with an average of 19 years with credit-worthy counterparties. It has been affected by the bankruptcy filing of the parent company, with its stock in a slump since the filing. The yieldco has overdue 10-Q forms since it depends on SunEdison for accounting services.
In the first half of 2017, TerraForm Global reported $119.0 million in net revenues, a 14.0% rise compared to $104.0 million in the first half of 2016. Adjusted revenue generated per MWh (megawatt hour) for 1Q17 was $95, which is 1.0% higher than $94 in 1Q16. The solar segment revenues formed ~55.0% of net revenues in 2016, while the wind segment made up the remaining ~45.0%.