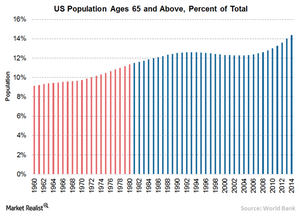 Why Structural Hurdles Could Thwart US Economic Progress
By Rick Rieder

Dec. 4 2020, Updated 10:53 a.m. ET
Finally, the potential slowing of the U.S. economy — another major risk — has a lot to do with the limited ability of monetary policy to address structural hurdles facing the U.S., like an aging population and a labor force not fully trained with the necessary skills to work with today's (and tomorrow's) technologies.
The bottom line: Stepping back to see the real forces at work is vital in a world of complex market crosscurrents, and too narrow of a focus may be part of what leads many to underperform.
Article continues below advertisement
Market Realist – Structural hurdles facing the US economy
The US economy (IJR) (IWM) is facing major structural issues that have the potential to thwart its economic progress. The most important hurdle is an aging population. As you can see in the graph below, the older population (65 years and older) has been increasing consistently for the past few decades. It represented 14.4% of the total population in 2014 compared to just 9.2% in 1960. Between 2013 and 2060, the US aging population is expected to more than double to 98 million.
In its biennial employment projections for 2014–2024, the United States Department of Labor has forecast a slowdown in labor force growth. It estimates the working age population to increase at an annual rate of 0.5% between 2014 and 2024 compared to a 0.6% growth from 2004 to 2014 and 1.2% from 1994 to 2004. The slowing growth in the next ten years is due to the retirement of aging workers. The aging population will present wide-ranging challenges to the government in housing, Social Security, and healthcare facilities, which will restrict the economy (IWF) (IWD) to a moderate growth path.
Skills mismatch
Another structural issue facing the US economy is the mismatch of skills required by employers and those available from employees. A survey by employment firm ManpowerGroup shows that 52% of employers in the United States are finding it difficult to source suitably skilled talent to match their requirements. Shortages of qualified workers have been especially rampant in science and technology (IYW), engineering, and mathematics.