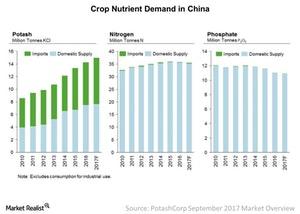 How's the Fertilizer Market in China?
By Adam Jones

Nov. 20 2020, Updated 2:58 p.m. ET
China
China has built a significant capacity for nitrogen and phosphate fertilizers. Not only is it self-sufficient in those two fertilizers, but it also exports to other countries. China remains a net importer of potash fertilizers, which supports potash producers (XLB) like PotashCorp (POT), Agrium (AGU), Israel Chemicals (ICL), and Mosaic (MOS).
Article continues below advertisement
Zero growth policy
Recently, China has been moving towards a zero growth policy. The country aims to reach zero growth in using agricultural chemicals by 2020. It includes chemical fertilizers and pesticides used for agriculture in China.
According to PotashCorp (POT), the policy will target nitrogen and phosphorous fertilizers. So, the scope for potash fertilizer remains positive.
Replacing chemicals
There's ample research on the use of fertilizers or crop nutrients to improve crop yields. To learn more, read Agricultural Fertilizer Industry: Your Comprehensive Overview. Crop nutrients can come from synthetic (or chemical) or organic sources.
China plans to replace chemical fertilizers with organic nutrients that are usually sourced from the decomposition of organic materials like animal manure, compost, and crop residue. China plans to use animal waste, straw, and agricultural plastic film.
Article continues below advertisement
The success of organic fertilizers replacing the chemical fertilizers on a large scale hasn't been seen yet. In the recent Fertilizer Industry Handbook released by Yara, the company said that organic fertilizers are "often inconsistent" in quality, which can have a negative impact on the crop yield.
China weakens
Lower exports are expected to come from lower production output as a result of curtailment in China. As we discussed earlier, the cost of production for Chinese producers increased due to tighter government policies.
We'll look for more details on China when fertilizer companies release their earnings this month.
In the next part, we'll discuss India's agricultural market.