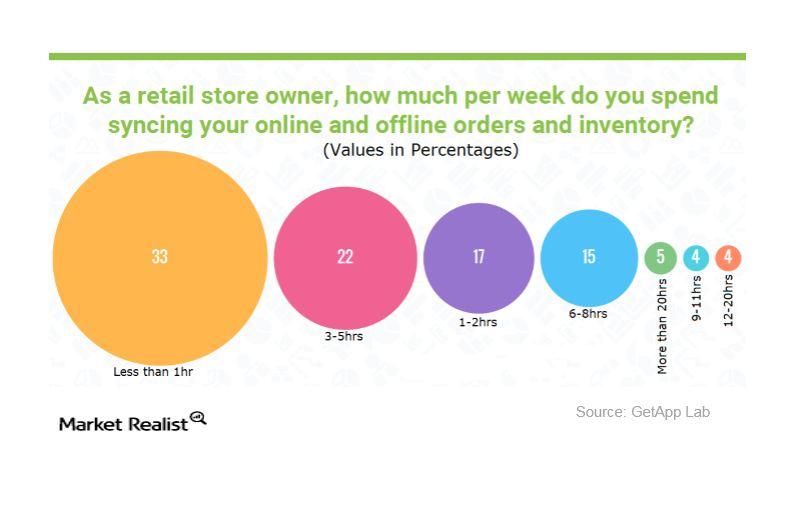 Square and BigCommerce Launch Inventory Syncing Solution
By Neha Gupta

Oct. 27 2017, Published 11:23 a.m. ET
Bringing online and offline storefronts together
Square (SQ), the US-based (SPY) payment processor that shares a chief executive with Twitter (TWTR), partnered with e-commerce software company BigCommerce to offer customers a new retail solution that simplifies inventory management across sales channels.
The new integration solution from Square and BigCommerce is designed to bring online and offline storefronts together seamlessly. Using the Square integration solution, retailers can conduct real-time inventory synchronization for more efficient inventory management across online and brick-and-mortar stores.
Article continues below advertisement
Losing hours in inventory management
Citing a recent industry survey of SMEs (small- and medium-sized enterprises) by GetApp Lab, Square and BigCommerce noted that 50% of retail businesses spend over three hours each week syncing their online and offline orders and inventory. The survey also showed that 10% of retail businesses spend over ten hours a week on order and inventory syncing between their online and offline storefronts. According to Square and BigCommerce, their new integration solution will reduce complexity in managing inventories across multiple sales channels, thereby freeing time and potentially cutting costs for businesses.
Availability of the Square integration solution
Square provides a broad range of payment and retail services and solutions to merchants across multiple geographies. The new Square integration solution will be available to merchants in the United States, Canada, Australia, and the United Kingdom (EWU).
Square's new integration solution could be viewed as part of the efforts the company is making to attract merchants to its platform as it competes with PayPal (PYPL) for control of the merchant payment processing market. PayPal recently launched an end-to-end payment solution, PayPal for Marketplaces, to draw more merchants to its platform.