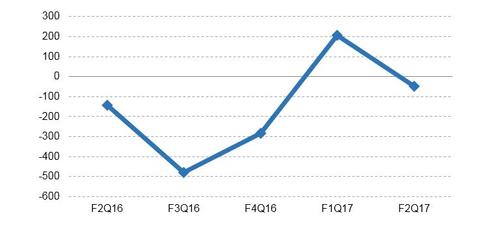 How Sprint Is Working to Ensure Network Reliability
By Ruchi Gupta

Updated
Magic Box for coverage extension
In the fiercely competitive US (SPY) wireless market, Sprint (S) is drawing on technology innovation to help it stand out, or at least defend its turf. Sprint is a US subsidiary of Japan-based (EWJ) telecommunications giant SoftBank.
A few weeks ago, Sprint tested its Magic Box concept as an aerial small cell to boost network coverage over several miles in a Texas location. The test involved the signal-boosting Magic Box attached to a drone, and it was able to extend Sprint's network coverage to about six miles from the nearest cell tower.
Article continues below advertisement
Network reliability to support critical communications
Sprint developed the Magic Box as an in-house signal booster for its customers, and the device has seen strong uptake with demand surpassing supply. However, the company also realized it could use the Magic Box concept to extend its network coverage, so it could guarantee network reliability.
For example, Magic Box technology could be deployed in locations cut off from regular cellular connectivity because of disasters such as storms and earthquakes to support emergency communications. Sprint could also use Magic Box to boost coverage or support strong traffic demand during concerts or sports events.
Rapid and cost-effective deployment
Some of the impressive features of Magic Box technology are that it can be deployed rapidly and cost-effectively, allowing Sprint to keep costs in check even as it supports critical communications. Although Sprint posted a loss in fiscal 2Q17, cost reduction helped the company's bottom line improve from the year-ago quarter, as shown in the chart.
Qualcomm (QCOM), the renowned chip designer that is entangled in a patent licensing dispute with Apple (AAPL), is one of the suppliers of two powerful chipsets that underpin Sprint's Magic Box small cell technology.