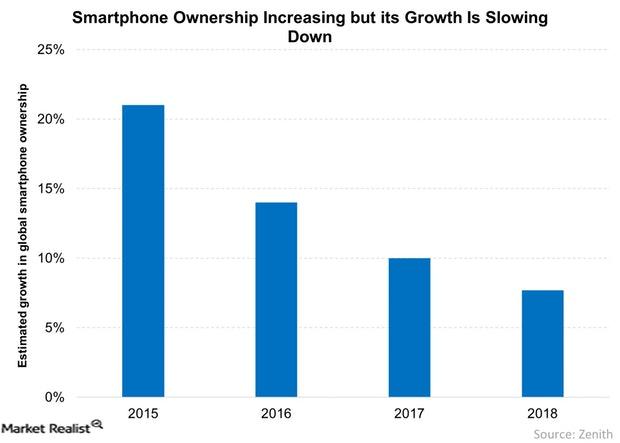 Smartphone Penetration May Reach 66% Globally in 2018
By Sanmit Amin

Oct. 19 2017, Updated 7:43 a.m. ET
Smartphone penetration is increasing globally
According to the latest estimates by media measurement firm Zenith, 66.5% of adults in 52 key countries are expected to own a smartphone in 2018. That percentage is up from 63.0% in 2017 and 58.0% in 2016.
While smartphone penetration has been increasing over the years, growth in smartphone ownership has been decelerating, as the graph below shows. According to Zenith, smartphone ownership could increase only 7% YoY (year-over-year) in 2018.
In terms of sheer numbers, China (FXI) should have the highest number of smartphone users in 2018 with 1.3 billion users. India (EPI) and the US are expected to have 530.0 million and 229.0 million smartphone users, respectively, ranking second and third in terms of smartphone ownership.
However, the only countries with smartphone penetration above 90% of the adult population are the Netherlands, Taiwan, Hong Kong, Norway, and Ireland.
Article continues below advertisement
Mobile ad spending is on the rise
The number of smartphone owners could be an important figure for digital giants like Facebook (FB) and Google (GOOGL). Digital advertising has been increasingly heading to smartphones.
According to Zenith, mobile devices like smartphones and tablets could account for almost three-quarters of the time spent on the Internet in 2018. The decline in the PC market and the popularity of smartphones have caused this change.
According to Zenith, 53% of the total expenditures on digital ads would be those viewed on mobile devices this year. The research firm estimates that the percentage could rise to 59% in 2018 and 62% in 2019.