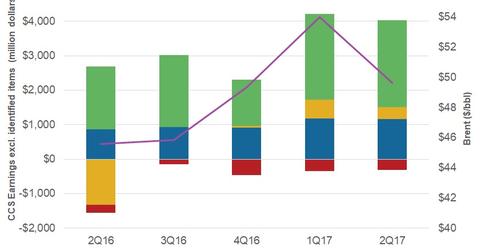 Analyzing the Prospects for Shell's 3Q17 Segmental Earnings
By Maitali Ramkumar

Oct. 26 2017, Updated 8:12 a.m. ET
Shell's segmental earnings trend
In this part, we'll analyze how Royal Dutch Shell's (RDS.A) segmental earnings performed in 2Q17. We'll also discuss Shell's 3Q17 outlook.
Shell's Upstream segment's earnings fell to -$1.33 billion in 2Q16. The segment's earnings switched to a profit of ~$339 million in 2Q17 on a CCS EII (current cost of supplies excluding identified items) basis. Shell's Integrated Gas earnings rose 35% compared to 2Q16 to $1.17 million in 2Q17. The earnings rose due to an increase in LNG (liquefied natural gas) prices and LNG sales volumes. Shell's Downstream segment's earnings rose 39% compared to 2Q16 to $2.53 billion in 2Q17 due to strong chemical and refining conditions.
The downstream segment added 68% to Shell's total adjusted earnings, while the Upstream segment added 9% and the Integrated Gas segment added 31%. However, corporate expenses dented the earnings by 9%. The Downstream segment's earnings accounted for a significant portion of Shell's earnings.
Article continues below advertisement
Shell's peers ExxonMobil (XOM), Chevron (CVX), and BP (BP) also saw their contribution from segmental earnings shift in 2Q17. ExxonMobil's upstream earnings rose to $1.18 billion in 2Q17 from $294 million in 2Q16. Chevron's upstream segment posted a loss in 2Q16. The segment's earnings rose to $853 million in 2Q17. BP's adjusted upstream earnings rose to $710 million in 2Q17 from $29 million in 2Q16.
Shell's 3Q17 segmental outlook
Shell is expected to witness a rise in its upstream realizations in 3Q17—compared to 3Q16. Brent and WTI (West Texas Intermediate) crude oil prices have risen in 3Q17—compared to 3Q16. Brent and WTI prices stood at $47 per barrel and $45 per barrel, respectively, in 3Q16. The prices rose to $52 per barrel and $48 per barrel, respectively, in 3Q17. Similarly, Henry Hub natural gas prices increased from $2.8 per MMBtu (million British thermal units) in 3Q16 to $3.0 per MMBtu in 3Q17. Usually, everything else being equal, a rise in crude oil and natural gas price suggests an increase in Shell's upstream earnings in 3Q17, assuming the volumes don't fall YoY (year-over-year).
The earnings from Shell's Downstream segment will likely rise. The cracks have expanded in 3Q17—compared to 3Q16. For instance, the US Gulf Coast WTI 3-2-1, the benchmark crack, has widened by $6.8 per barrel YoY to $20.5 per barrel in 3Q17. It points towards the likely rise in Shell's refining margin in 3Q17—compared to 3Q16.
If we evaluate the quarter-over-quarter performance, crude oil prices have remained flat in 3Q17. However, the refining crack indicators have risen quarter-over-quarter.