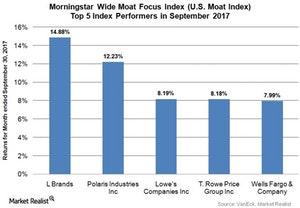 September Winners in US Domestic Moats: Discretionary, Financials
By VanEck

Nov. 20 2020, Updated 2:08 p.m. ET
U.S. Domestic Moats: L Brands, a tale of two months
Financials and consumer discretionary stocks were the top contributors to U.S. Moat Index performance in September. Victoria's Secret and Bath and Body Works operator L Brands, Inc. (L US, +14.88%) was the top performer in the Index, following two consecutive negative performing months. Financials firms T. Rowe Price Group, Inc. (TROW, +8.18%) and Wells Fargo & Co. (WFC US, +7.99%) were also strong performers for the month.
Article continues below advertisement
Market Realist
Index reconstitution benefited US domestic moats in September
As part of its staggered rebalancing approach, one of Morningstar Wide Moat Focus Index's (MOAT) sub-portfolio reconstitutions that happened in June added six new stocks to the portfolio. Of those stocks, L Brands and T. Rowe Price Group were the top performers in September. Consumer companies and financials added to the index's performance in September.
L Brands (LB), the owner of significant brands such as Victoria's Secret, Bath & Body Works, and Abercrombie & Fitch, has recently been feeling the pressure of Amazon's dominance in the retail space and LB's exit from the swim and apparel categories. The company's net sales for August fell 1.0% along with a 4.0% fall in comparable sales. The stock, however, picked up the pace in September. The company announced a $250.0 million share repurchase program. The stock rose ~15.0% in September after analysts at Atlantic Equities upgraded the stock to "overweight" from "neutral" after conducting ground checks at the stores.
Moat company Polaris Industries (PII) has risen ~30.0% year-to-date as of October 23, 2017. Its revenue has been rising since fiscal 4Q16, as you can see in the above chart. In September, the stock rose after UBS increased its target price with expectations of higher earnings and revenue growth for fiscal 3Q17. Wall Street estimated a 17.8% rise in revenue and a 167.0% rise in earnings in 3Q17.
Home improvement store Lowe's Companies (LOW) started rising after the company reported its fiscal 2Q17 results at the end of August. The company reported adjusted EPS of $1.57 on revenues of $19.5 billion. On a YoY (year-over-year) basis, the company's earnings rose 14.6%, and its revenue rose 6.8%. Revenue growth was driven by positive same-store sales growth and the addition of new stores. The acquisition of RONA, Maintenance Supply Headquarters, and Central Wholesalers also added to the increase.
Other top performers
The financial sector has been spiking since the presidential elections in November 2016, with expectations of easing regulations and rising interest rates. The sector was one of the best performers in the second quarter this year. T. Rowe Price Group's (TROW) revenue has risen 8.7% CAGR (compound annual growth rate) over the last five years. In September, the company announced its preliminary AUM (assets under management) of $934.0 billion for August 2017, a 1.0% month-over-month increase.
Moat indexes are comprised of carefully chosen companies with a competitive edge. They give investors exposure to companies in various sectors with a competitive advantage over their competitors.
In the last part of the series, we'll take a look at the detractors in the US domestic moat index in September.