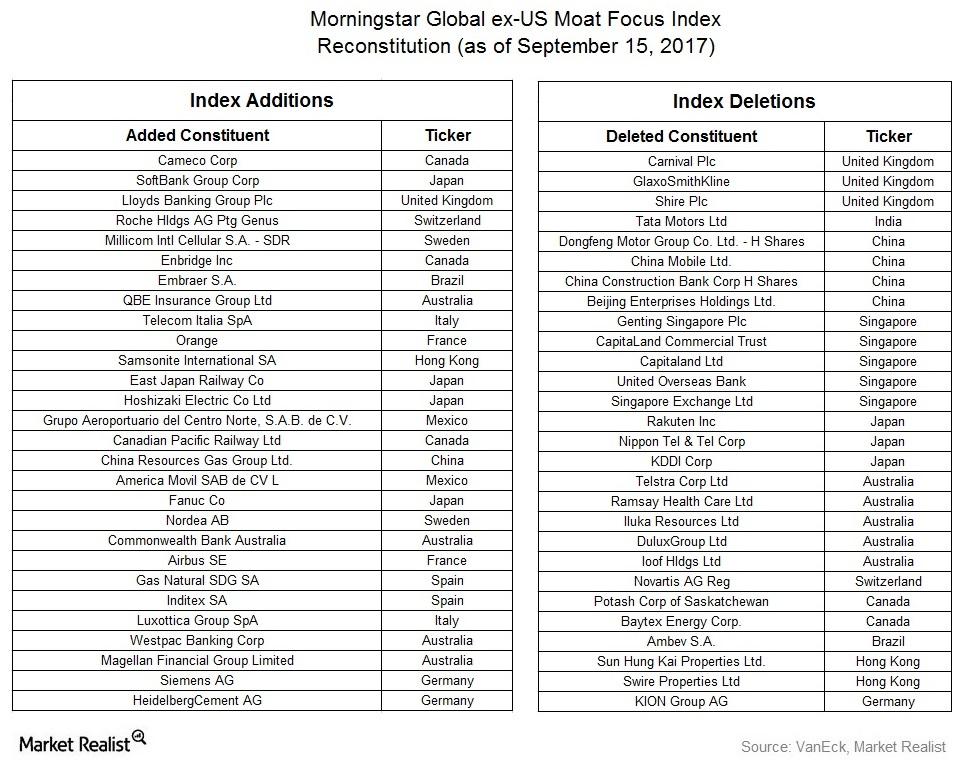 September Global Moat Winners: Asia Holds the Trophy
By VanEck

Oct. 29 2017, Updated 6:10 p.m. ET
International Moats: Macau gaming bounces back
MGM China Holdings Ltd. (2282 HK, +19.63%) was the standout performer in the International Moat Index for the month, while SINA Corp. (SINA US, +12.59%) was the top contributor, due to its larger weighting in the index. Both companies operate in Asia. MGM China Holdings derives the majority of its revenue from Macau and SINA Corp from China. SINA's Weibo platform, a Twitter-like social media network, has been its key growth driver. The International Moat Index also saw strong contributions from industrials and healthcare companies, as well as German, Canadian, and Dutch companies.
The real estate sector detracted the most, and exposures to Singapore, Canada, Japan, and Mexico all detracted from the Index in September.
Article continues below advertisement
Market Realist
International moat indexes: September winners
As we saw in Part 1 of this series, both the US domestic moats (MOAT) and the international moat indexes (MOTI) lagged slightly in September but outperformed the broader benchmark index YTD (year-to-date) as of September 30, 2017.
SINA (SINA), a China-based online media company, benefited the International Moat Index the most in September. The company holds the highest weight among the index's constituents. For 2Q17, which ended June 30, 2017, the company reported significant growth in revenue of 48.0% YoY (year-over-year) and growth of 235.0% YoY in income from operations. SINA's Weibo platform, its primary growth driver, recorded a 28.0% YoY increase in monthly active users in June. Since the 2Q17 results that were released on August 9, 2017, SINA stock has surged 11.0% as of October 23, 2017. For fiscal 2017, the company is expected to report revenue growth of 46.0% and earnings growth of 103.0%. The stock has risen 98.0% YTD as of October 23, 2017.
MGM China Holdings was the top performer in September with its stock rising ~20.0%. MGM derives its revenue from its casino and gaming business in Macau. For the six months ended June 2017, the company reported increases of 3.3% and 10.6% in revenue and adjusted EBITDA (earnings before income, tax, depreciation, and amortization), respectively. In September, Macao's Gaming Inspection and Coordination Bureau reported that the casinos hit a 14-month rise in revenue of 16.1%. The stock has risen 10.0% YTD as of October 23, 2017.
Article continues below advertisement
Other top performers in September
Energy companies also topped the charts in September. Canada-based Baytex Energy and China-based ENN Energy Holdings also contributed to the index's performance. With oil prices recovering, energy producers are seeing an upside potential in their stocks.
Canada-based agricultural fertilizer firm PotashCorp of Saskatchewan (POT) was also one of the top five performers in September. POT stock has been suffering due to poor price realization for fertilizer products. However, a recent update on PotashCorp's (POT) and Agrium's (AGU) ongoing merger process to obtain regulatory approvals has caused the stock to spike.
Detractors in September
Among the September poor performers were India-based Wipro, which fell 8.3%. Sydney-based Ramsay Health Care, which holds a narrow moat, fell 8.2% last month after the company reported weak earnings guidance for fiscal 2018. The company expects EPS (earnings per share) growth of 8.0%–10.0% compared to 13.0% growth in fiscal 2017. Cruise company Carnival was affected by the after-effects of the recent hurricanes in the United States.
Despite a few detractors, moat companies often provide a competitive advantage in creating long-term value for shareholders by possibly offering higher sustainable returns. The chart below shows the index additions and deletions in the September sub-portfolio reconstitution.